<< Back to Integrity Matters main page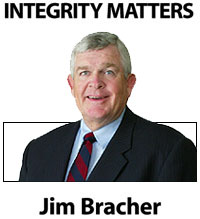 Jim Bracher's weekly newspaper column, Integrity Matters, addresses integrity issues and welcomes readers' questions on business-related ethics and values.
To ask an integrity question or comment on a published response from this website, click on Ask Bracher.
Read full-text versions of each column by using the links below.
Integrity Matters Archives

Integrity Matters - El Sol

Integrity Matters is also available monthly in the Spanish language newspaper, El Sol.

2005

December

November

October


| | |
| --- | --- |
| October 26: | "Integrity takes on a spiritual value" |
| October 19: | "Rape, murder rate worst for a lack of integrity" |
| October 12: | "Red tape clogs the construction industry" |
| October 05: | "Loss of integrity begins with just a single step" |


September

August


| | |
| --- | --- |
| August 31: | "Sports striking out on drug abuse policies" |
| August 24: | "Integrity a must when coaching youth sports" |
| August 17: | "Too many lazy board members" |
| August 10: | "Integrity No. 1 rung on ladder to success" |
| August 03: | "Wells Fargo Bank's integrity in question" |


July


| | |
| --- | --- |
| July 27: | "An act of kindness will make your day" |
| July 20: | "Don't forget the binding verbal handshake" |
| July 13: | "Movie reminds us of our 'Field of Dreams'" |
| July 06: | "Police officers strengthen, protect society" |

2005