When Jim speaks at your event...
Integrity Matters
by James F. Bracher &
Daniel E. Halloran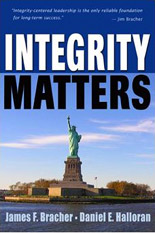 Integrity Matters shows you steps to take to ensure that your business, civic organization or volunteer group can operate with high standards of integrity.
The companion question to "Whatever happened to integrity?" is "How can we get it back?"
The authors have the answer, and it is yours for the reading—and to implement. More Information...
Clarity, insight, intensity, sensitivity and follow-through are combined with a wealth of experience, enabling listeners to gain practical solutions for their leadership concerns; on the job and in their private lives.
Integrating personal values with professional priorities, Jim weaves illustrations that cause change in how individuals address problems.
To elevate performance, yours and others; consider:
* Jim Bracher's keynote presentations, including Nine Steps, can be custom-designed.
To contract Jim Bracher as a keynote speaker, contact us.