Integrity Matters
February 28, 2007
We rely on our leaders to help inspire greatness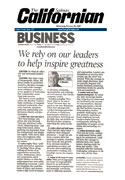 Question: (E-277)
Dear Jim:
So what do effective and successful leaders do?

Response:
Fair Isaac Corp. of Minneapolis, Minn., the global leader in predictive-analytics, decision-management and credit-management solutions, promotes seven qualities of leadership that consistently create long-term success.
Fair Isaac's seven qualities reflect the Bracher Center's Eight Attributes of Integrity-centered Leadership: character, honesty, openness, authority, partnership, performance, charity and graciousness:
Leaders have vision and share it:

They turn strategy into action and stay focused. They pay attention to the vision, balancing short- and long-term issues, distinguishing the important from the unimportant and simply the urgent. With savvy, intuition and judgment, they define the path to pursue the vision.

Leaders inspire:

They "pull" people forward as opposed to "pushing" them along, rallying all levels of an organization around the vision. Enthusiasm, drive and competitive spirit enable leaders to raise the achievement bar even while celebrating successes. Leaders recognize the contributions of others and demonstrate a high level of respect at all times, remaining approachable and creating an environment that fosters company loyalty.

Leaders accomplish:

They know what to do when "stuck" because they are quick to try new directions when first attempts fail. Leaders leverage networks of advisers to build non-bureaucratic solutions to real problems. Reaching out for help, they are restless in the face of slow progress, expecting the same of others.

Leaders attract and build teams:

They find the right talent - whatever their assigned resources - to get the job done. Leaders have the courage to require contributions from all, and growth from all team members, capitalizing on talent and diversity and establishing constructive working relationships across the organization.

Leaders set the scope of responsibility:

They set an appropriate scope of responsibility based on an individual's demonstrated competencies and potential, remaining open to differing opinions and approaches. Leaders see themselves as serving their people, not the other way around. With the courage to make tough decisions, leaders provide frequent and honest feedback, balancing individual desire for growth with accountability.

Leaders teach and foster employee development:

By example, they encourage leadership behaviors in others and are involved in the success of team members. Encouraging appropriate risk-taking that includes learning from mistakes, leaders establish challenging roles that promote experience-based employee growth. Leaders assess honestly, continuously refining the capabilities of people, recognizing and rewarding successes.

Leaders demonstrate values:

They tell the truth, seeking to understand before seeking to be understood. Leaders have the courage to address their own weaknesses; sharing credit for ideas and results. They establish effective methods, challenging colleagues to do their best, all the time.
Home Page | About Us | Ask Bracher | Services | Resources | Contact Us

©Bracher Center for Integrity in Leadership and Dimension Five Consultants, Inc. All Rights Reserved.
P.O. Box 22467, Carmel, California 93922