Integrity Matters Broadcasts
May 10, 2007
Dear friends:
For the past six years, our firm has honored a former employee, Clyde Klaumann, by identifying valuable contributions by colleagues – some employees and others who became an important part of our network. Each recipient exhibited common traits: intensity, sensitivity and follow-through, along side integrity, quality, perseverance, loyalty and professionalism. When colleagues bring this positive energy to an enterprise, good things happen, over and over. Regardless of organizational size, structure or function, there is great benefit in remembering those who have "gone the extra mile." Appreciating valuable contributions is important, and memorializing them can be magic.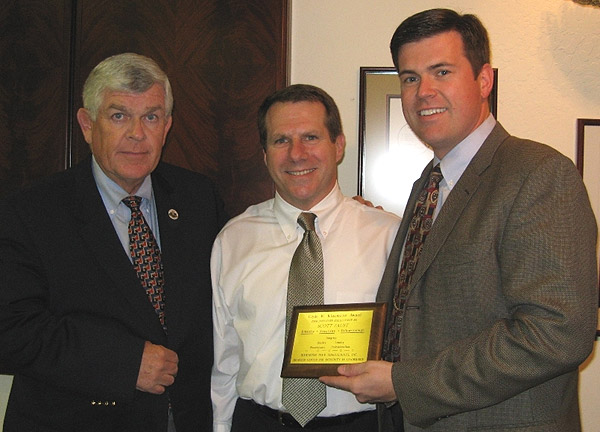 At Dimension Five on May 7, 2007- Jim Bracher, Scott Faust and Clyde Klaumann
Motivation and Recognition
What is the most effective motivational tool that management can employ?
Individuals, not corporations, determine which incentives motivate. Successful compensation and benefits programs encourage high productivity, quality service and safety. Incentives vary, but when reduced to primary sources of inspiration, there are five motivational categories: title, influence, money, empire-building and recognition.
The five incentives:
Title: when cash is not plentiful, consider creating a meaningful title. Napoleon said that he could conquer the world if he could find enough ribbon. Earning legitimate titles motivates and costs little.
Influence: perceived or real power includes having access to the boss and being able to attend important meetings. Bragging rights related to having "been there" when the critical issues were discussed can be a powerful motivator, creating cost-saving incentives.
Money: providing dollars appears uncomplicated until configured into meaningful compensation packages. Prudently structured dollars communicate value to recipients. Otherwise, noble and costly efforts by management devolve into next year's entitlements.
Empire: having a larger headcount than a peer, at least for some, outweighs other rewards. Competition for perceived-power in organizational size, including responsibilities, can when achieved, be its own reward, reducing management headcount.
Recognition: human beings will remember how you made them feel long after they have forgotten what you said. The same is true for mission-driven organizations with inspiring leaders. They make routine business transactions into interpersonal connections through powerful relationships, requiring time, not money.
Six years ago, our management consulting firm, Dimension Five Consultants and the Bracher Center for Integrity in Leadership, created an annual service-excellence reward, named for a former employee Clyde W. Klaumann. We focused on recognition. Because Clyde consistently embodied intensity, sensitivity and follow-through; along with integrity, quality, perseverance, loyalty and professionalism – building this incentive around him was quite easy.
The 2007 Clyde W. Klaumann Award recipient is Mr. Scott Faust, General Manager, Executive Editor, Salinas Newspapers, Inc. He has endorsed, edited and published weekly Integrity Matters columns since 2002, in The Californian and in El Sol. Scott's August 6, 2003 news story about the Bracher Center's research project addressing the leadership history of Salinas Valley Agribusiness; reflected the Bracher Center's Eight Attributes of an Integrity-Centered Leadership Organization which became part of the Bracher-Halloran book, Integrity Matters, published in 2004.
In addition, Scott signed up the Californian to co-sponsor, with the Bracher Center and California State University, Monterey Bay, a series of leadership development workshops called MBA Impact©: the power and impact of effective business leadership. Scott's excellence is reflected in how he helped us to become better partners with him, leveraging his own intensity, sensitivity and follow-through, along side his integrity, quality, perseverance, loyalty and professionalism. Thank you, Scott.
To continue with recognition, a powerful motivator, please note the contributions of a mentor, who provides to me and others, a steady dose of positive energy and perseverance – otherwise called enthusiasm and tenacity.
What causes certain people to be successful?
Preparedness, opportunity and hard work are a winning combination. Only opportunity lies outside one's control. However, when factored into the equation, those who are ready and willing to do whatever it takes frequently capitalize on seemingly-random circumstances. One individual who has leveraged these elements effectively is Basil E. Mills, Salinas, California, entrepreneur, agribusiness leader and humanitarian.
To learn more about how Basil improves individuals and communities in which he lives click here:
Basil Mills, my mentor, reminds those who know him, that enthusiasm and tenacity are a winning combination.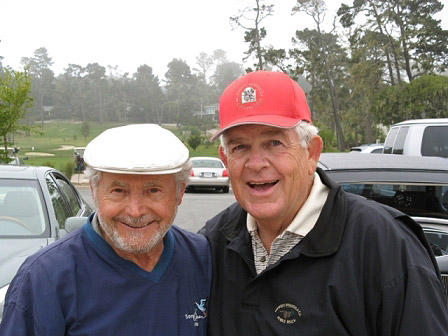 "Successful people seek to serve humanity in the best way that they can and they do not waste energy in vain envy of those whose service lies in other fields."
-- Source unknown
Success very often begins with finding the "right" situation and being the "right" person.
On May 19, come to Danville, California, and learn how to do both:

"Integrity-Centered Leadership"
Finding the "right" employer
Identifying the "right" employee
*begins approximately at 10:00am
The 2007 Northern California Career and Leadership Summit
"Leadership … Filling the Void"
Register for Jim's May 19 Program at www.JobConnections.org
In closing, would you like to know if your organization is a potential Bracher Center client?
Is your enterprise anticipating growth and organizational transition?
Does your culture value people and superior leadership?
Will you participate, directly, in improving team dynamics?