Integrity Matters
March 28, 2007
Hiring? Look at I-C-A-R-E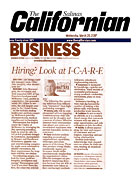 Question: (E-282)
Dear Jim:
I am hiring a new key manager, soon. Other than integrity, what should I look for?

Response:
John Hammergren, the successful and well-respected CEO of San Francisco-headquartered McKesson Corp., guides an organization that generates nearly $90 billion in revenue, the 16th largest company in the United States.
As the nation's leading health-care services company, McKesson provides pharmaceuticals, medical supplies and technologies.
Hammergren has helped renew the vitality of McKesson by leveraging his five operating priorities, built on what he calls his I-C-A-R-E platform: Integrity, Customers, Accountability, Respect and Excellence. McKesson's gigantic size and overwhelming complexity might seem unrelated to smaller enterprises, but their requirements for long-term viability are similar.
Billionaire, Warren Buffett says "In evaluating people, you look for three qualities: integrity, intelligence and energy. And if you don't have the first, the other two will kill you."
The following five operating behaviors help differentiate "wannabes" from high-performing managers:
Listening skills will be complemented with an engaging communications style that draws out the thoughts and concerns of others. Effective listeners build relationships that attract and retain service-oriented employees who provide legendary service to customers.
Clarity includes realism regarding personal and organizational capabilities, challenges and consequences of decisions. Those who produce strong results consistently master performance details while simultaneously shepherding the organization's vision. Effective managers set productivity-improving direction because they are able to internalize core values as they convincingly motivate followers, relentlessly implementing mission.
Competence is measured by knowledge, capacity and motivation. Track records of successful performance trump academic credentials, enthusiasm, plans or even promises.
Reference checking, in ways that dig beyond the comfort of making a few phone calls, will identify productive work histories.
Confidence is not so much an attitude, as it is a motivational energy that surrounds winners who are able to seize opportunities and rally colleagues to join the effort.
Humility is about appreciating the trust and support of customers and colleagues, respecting and nurturing relationships.
Humble individuals acknowledge their dependence on others for their success, treating all stakeholders graciously.