Integrity Matters Broadcasts
May 23, 2007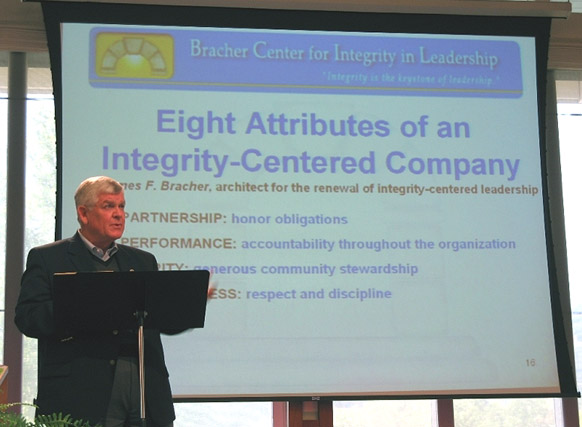 Jim Bracher's "keynote" address at Job Connections, Danville, California, May 19, 2007
Dear Friends:
Have just returned from Danville, California, delivering a one-hour presentation for several hundred job-fair participants – those seeking jobs and those searching for talent! The feedback was positive; as provided by Job Connections event Co-Chair Dean Tracy of San Ramon, California:
"Excellent event, especially Jim Bracher's presentation"
"Bracher was excellent."
"James Bracher was outstanding! He made the day!"
Translation: we now know, for certain, that our 27 years of advising leaders provides multiple insights into what works well in finding the "right" fit for both employees and employers. Unnecessary turnover annihilates profits. Proactive individuals seek ways, in the hiring process, to more efficiently and effectively match talent, chemistry and culture. By addressing legitimate mutual needs – of employees and employers –productivity and profitability can be improved.
My presentation was about how to elevate performance by making sure that organizations and individuals were "right" for one another.
Nine steps for hiring and retaining the "right" employee by being the "right" employer
Hiring and retaining the "right" people are keys to success and our Nine Steps provide a powerful platform upon which to clarify and cascade constructive values.
In closing, one more question, are you a potential Bracher Center client?
Is your enterprise anticipating growth and organizational transition?
Does your culture value people and superior leadership?
Will you participate, directly, in improving team dynamics?