Integrity Matters Broadcasts, 2006
May 26, 2006
Golf Professionals and leadership effectiveness
Dear Friends:
On Wednesday, May 17, 2006, Lou and Jim Langley invited me to speak to their alumni association, University of California, Berkeley. My topic was: Integrity and Leadership. If you are not acquainted with Mr. and Mrs. Langley, then you are missing one of the great treats that special people provide: genuineness and integrity. Living is more pleasant for us when we identify someone who is the "real" deal and make sure they know how much they are appreciated.
Following lunch in Pebble Beach, my "integrity" message unfolded, as it almost always does: "One does not have to be perfect to recognize the importance of perfection. And, imperfect human beings still need to be challenged to live at the highest levels." What made this speech particularly meaningful was the opportunity that my wife, Jane, and I had to thank Lou and particularly, Jim for having encouraged some of our research on how golf can teach leadership; and that those who teach it can be valuable leadership advisors as well. After writing an article about golf, Jim Langley encouraged me to persevere until it was published. Jim, the recently retired Head Golf Professional from the Cypress Point Club, told me that my written observations made sense to him and my confidence soared. More people in all walks of life need to know what golf professionals might teach about leadership and effectiveness that extends far beyond playing golf. To those who remain alert, powerful learning can happen any time. Please see below to know what can be learned.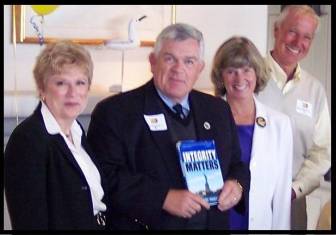 Jane and Jim Bracher with Lou and Jim Langley, just before 50 Cal-Berkeley alums were given complimentary copies of Integrity Matters, in honor of Lou and Jim.
PGA GOLF PROFESSIONALS AND LEADERSHIP - April 20, 2006
"What they didn't teach you in business school that your golf professional might"
by James F. Bracher
Can a golf-pro teach a CEO something about running a company successfully? The answer may surprise you.
Successful PGA golf professionals not only play well but also relate maturely with many different people, maintaining commitments to the highest principles of golf. They perform excellently, while simultaneously managing others productively. They teach students of all ages constructively and communicate effectively; while simultaneously mastering their own emotional reactions, intellectual and strategic challenges and performance demands. Playing consistently at or below par defines the scratch golfer, but not necessarily a golf professional. Those at the top of the game can teach more than driving, chipping and putting. They are master leaders as well.
First, they understand and model the behaviors required to play golf at a consistently high level. They are golf professionals because they are able to:
Control emotions, including anxiety and tension, quieting the mind
Stay in the moment, concentrating - leaving bad shots behind
Assess circumstances continuously, both opportunities and risks
Concentrate, relying on individual routine throughout performance
Stick with decisions, visualizing and executing without uncertainty or fear
Maintain confidence and rhythm; sustaining balance and calm
Remember to see, feel and hit the ball - with confidence and intensity
Acknowledge that performance at this level has already qualified those who have the talent and discipline to perform, consistently, at the highest levels. At the professional level, it is foremost about attitude - monitoring and controlling emotions; and, of course, keeping score with integrity.
Second, as managers working with and through colleagues, like other executives, golf professionals exhibit these seven "best-in -class" inspiring leadership behaviors. Click here to read about seven management habits of golf professionals.
Golf is how we relax. It is also an excellent environment in which to learn. How do you relax? Sailing, running, biking, tennis – or something else – and what might you learn about leadership and effectiveness when you must change the pace and get away?
In the meantime, don't forget that we are offering MBA Impact: Essentials, on Tuesday, July 11, at Tehama Golf Club in Carmel Valley, California. Our May 23 workshop was over-subscribed; so we are providing the MBA Impact: Essentials workshop, a second time.
Sign up before June 30 for
MBA Impact: Essentials
and join us on July 11.
Sincerely,
Jim