James F. Bracher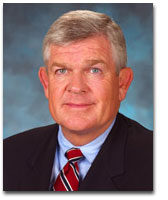 Jim Bracher, architect for the renewal of integrity-centered leadership, created the Bracher Center for Integrity in Leadership in 2002, as an extension of his 33 years advising individuals and organizations. Those who have sought Jim's counsel include entrepreneurs, corporate executives, and individuals addressing succession concerns. Jim's leadership development firm Dimension Five Consultants, Inc., of which he is Founder and Chairman, is located in Monterey, California, and was established in 1980.

The motivation for the Bracher Center grew from suggestions of clients. They realized that Dimension Five was collecting data concerning effective and integrity-centered leadership that would enable leaders to gain insight into their own operational effectiveness as well as that of their organizations. Jim also saw a need for a Resources section on the website focused on learning, study, and knowledge concerning the role of integrity in effective leadership. The Bracher Center shares insights that have been gained by Dimension Five in consultation with 8,000 leaders.

His work has been featured on network television, in national newspapers and business journals. He is the originator of the "Talking with Leaders" symposia. Jim writes a weekly newspaper column, Integrity Matters, and he is published in both English and Spanish. Jim has conducted leadership effectiveness workshops - MBA Impact - in association with Extended Education at California State University - Monterey Bay. Jim lectures on leadership and golf based on his published-research in PGA Professionals Magazine - September, 2006: Leadership requirements similar for PGA Professionals and corporate executives - "What they didn't teach you in business school that your golf professional might"

Prior to Dimension Five, Jim, an ordained clergyman, served ten years as a chaplain, associate minister, and senior pastor. His assignments were Saint Louis Country Day School in Ladue, Missouri; Second Congregational Church in Greenwich, Connecticut; First Congregational Church in Terre Haute, Indiana; and Community Church of the Monterey Peninsula in Carmel, California.

Jim's education includes a Bachelor of Arts, Elmhurst College; and a Master of Divinity, Eden Theological Seminary. He has continued his education at Whittier College, The American School, Jerusalem, Israel, Oxford University and the Hudson Institute.

Jim's professional experience includes advisory councils and boards of directors. Along with his own counselors and faculty at the Bracher Center, he restores integrity through insight.

Co-author of the book Integrity Matters with Daniel E. Halloran.
Darrel A. Mank, Ph.D.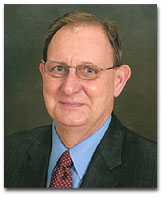 Del Mank creates, markets, sells and delivers engineering leadership programs integrating technology, R&D and financial management expertise. Del provides a practical blend of high-tech industry experience along side academic credentials in engineering, financial and general management.
Del has 35 years of semiconductor industry experience with international business knowledge as a senior executive in both private and publicly held companies. His successful turn-around experiences with troubled businesses provides a practical backdrop for managerial assessment and coaching with clear organizational execution direction. He has researched and published in the area of managing R&D expenditures in high tech companies for best shareholder returns.
Mank serves on the Board of Directors of Tundra Semiconductor Corporation, Ottawa, Ontario, Canada, and he lectures at the Leavey School of Business of Santa Clara University in the area of Technology and Innovation Management. He is a past chair of Tundra's Audit committee and is currently an audit committee member.
Prior to Tundra, Del was with Cadence Design Systems, Cirrus Logic and VLSI Technology as a senior executive. Mank began his high-tech career with Texas Instruments where he held several engineering and general management positions.
Del received his Bachelor of Science degree in Electrical Engineering from the University of Missouri-Rolla, his MBA from the University of Dallas Graduate School of Management, and his PhD from the University of Missouri-Rolla in Engineering Management. His PhD dissertation, published in 2002, was titled "The Relationship Between R&D Spending and Shareholder Returns in High Technology Industries."