Integrity Matters Broadcasts, 2006
August 21, 2006
Learning right from wrong
Dear Friends:
Learning right from wrong is a part of the mission of those who are responsible for properly guiding the next generation. Each of us carries "role modeling" responsibilities for family, friends, youth and strangers on the path of life. Who knows these responsibilities better than those who direct the services of Boys and Girls Clubs - whether at the local or national level?
Locally, in California, at the Boys and Girls Clubs of Monterey County. . ."the Mission is to inspire and empower the youth of Monterey County to realize their full potential to become responsible, healthy, productive and successful citizens."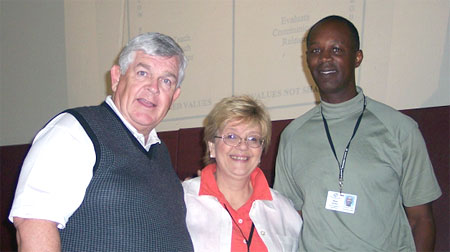 Boys and Girls Clubs of Monterey County, at a leadership workshop conducted by Jim Bracher, who is standing in the gymnasium of the Boys and Girls Club, Salinas, California, on August 15, with Donna Ferraro, President and Chief Executive Officer and Ron Johnson, Vice-President, Operations.
Seems human beings need to continue learning right from wrong. And, as one of my mentors said, over and over, we learn about things (mechanics, engineering, finance, the hard sciences) from books and we learn about people (and values) from other people.
DOING THINGS RIGHT!
Salad product recall was a proactive move - Doing things right!
Integrity costs, but adds up to doing the right things and doing them right! Read about courageous decisions here.
DOING THINGS WRONG!
Housekeeper and employer need to do right thing - or risk damaging their integrity.
Addressing dishonesty and cover-up - immediately challenges casual adherence to values, which cause chaos; read more.
WHAT TO DO WHEN THINGS GO WRONG:
Spent three frustrating hours at the local Post Office, dealing with a non-responsive employee! She has seen me - a regular customer - for many years and I have always been respectful. What happened to customer service? Do you know the right way to address such behavior?
Regarding quality service, it is too often an exception today and accounts for the public's eagerness to identify legendary service, almost anywhere, and reward it. To learn how to deal constructively with disappointing service - at the United States Post Office and in other settings; read more.
WHAT TO DO WHEN THINGS GO RIGHT:
Immediately, say "Thank you." Integrity is congruence between what you say and what you do, as well as what you say about what you did. Integrity is the keystone of leadership.
Please register soon for September 20 - MBA Impact: Essentials.
Sincerely,
Jim