Integrity Matters
November 12, 2008
Sabbatical – a time to reflect
Question: (E-368)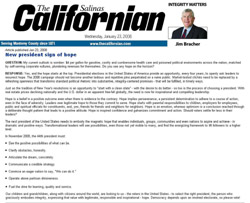 Local columnist says his goodbyes

Nearly seven years ago, on Dec. 4, 2002, Integrity Matters, my weekly column, was launched here at The Salinas Californian. After 309 published responses to reader's questions, along with some editorial positions of my own, it is time to say "thank you" for the opportunity. The Californian's decision to provide this space for me has been and will remain a truly significant and life-changing opportunity. Support, critique and suggestions from readers have been appreciated and valuable. However, it is now time for me to go on an "Integrity Matters" writing sabbatical. A sabbatical is a "leave" from daily obligations, originating in Biblical times: a year observed every seventh year under Mosaic Law as a "Sabbath" during which the land [read Jim Bracher] was allowed to rest.
It is valuable to differentiate between "doodle-ing" and "noodle-ing." Doodle-ing is when we write without thinking. Noodle-ing is when we think without writing. Now is the time for me to noodle for a while.
My intention was to raise awareness on a tough and demanding subject - integrity. As we know, it is easier to "go along to get along" and excuse irresponsible behaviors - in both word and deed - than to hold up the integrity mirror to ourselves and those with whom we associate. Truly critical commentary too often gets lost in everyday conversations. When concerns are raised, integrity challenges can come across as little more than superficial punch lines connected with a knowing "wink" - looking the other way instead of forthrightly addressing cruelty, dishonesty and hypocrisy. Hopefully, our Integrity Matters columns have offered constructive approaches with practical tools; improving our world, one person at a time.
Our book, Integrity Matters, published in 2004, was an outgrowth of management consulting conversations with our clients from across the United States and around the world. But, in reality, Integrity Matters, which showcased my weekly columns from The Californian, was most clearly shaped by hours and hours of discussions with agribusiness and community leaders from the Salinas Valley. So, thank you for the opportunity to talk with you via this Integrity Matters column that enabled me to listen to you and learn about your priorities.
By way of reminder, here again are the Eight Attributes of an Integrity Centered Organization (or individual):
1. CHARACTER: consistency between word and deed.

Do the leaders of your organization exhibit congruence between what they say and what they do, as well as what they say about what they did? Do leaders exhibit the right behavior?

2. HONESTY: truthful communication.

Do you have confidence that your leaders would never engage in or sanction misrepresentation?

3. OPENNESS: operational transparency.

Is appropriate information about your organization readily available?

4. AUTHORITY: employee encouragement.

Are you able to correct a customer problem? Do you have confidence that your actions will be supported?

5. PARTNERSHIP: honor obligations.

Does your company pride itself on timely fulfillment of all commitments?

6. PERFORMANCE: accountability throughout the organization.

When individuals, including senior executives, under-perform repeatedly, are they given due process and then, if necessary, replaced?

7. CHARITY: generous community stewardship.

Does your organization reach out to those in need?

8. GRACIOUSNESS: respect and discipline.

Does your organization demonstrate care and concern for all stakeholders?