Integrity Matters
July 9, 2008
Reward requires an investment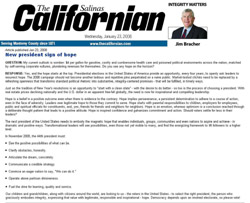 Question: (E-351)
A global soft-drink producer is currently using these words in a television commercial to increase the sales of its very own brand: "You give a little love and it all comes back to you."
They generate billions in profits by capturing mindshare, touching human emotions and causing the public to purchase the company's product. So, is it such a big stretch for a local four-year university to "provide encouragement" to first-generation college students - recognizing that our entire community will likely "get a great deal back" - in the months and years ahead? Of course not!
A client taught me, years ago, that "sometimes you have to give before you get." Investment, another way of saying that one has to risk something in order to create returns, comes in many forms, whether money, kindness, time or energy. Regardless, somebody must make the first move.
Just such a program was established in 2007 at the Foundation of California State University, Monterey Bay. Executives-in-Residence has enlisted 120 successful and influential leaders to open doors of hope and possibility for young people who can become tomorrow's leaders. As the director of this program, located on the CSUMB campus in Seaside, my job is to make sure we provide students with insightful counsel - built on personal example and substantive relationships - helping them to understand their potential, establish milestones and pursue life goals.
Executives-in-Residence's Pay It Forward scholarship program instills the spirit of hope and generosity in the next generation by demonstrating that giving back can truly be the greatest gift of all, especially for the giver. The words "pay it forward" are taken from a book of that title which showcases how helping others can create a cascading chain of goodwill and good works.
Pay It Forward goes beyond the traditional arms-length transaction of providing deserving students with financial assistance for higher education by fostering an ongoing, mutually accountable relationship between recipients and leader-mentors. Students are not merely asked for something in return for the support they receive. They are required to "pay it forward" by providing their own service to at-risk youngsters through a partnership with the Boys and Girls Clubs of Monterey County. The goal is to develop confident and enthusiastic young people who gain both the means to complete their education and the tools to make their own contributions to others while simultaneously growing immeasurably as individuals.
Each student chosen to participate in Pay It Forward receives up to $5,000 per year to attend CSU Monterey Bay, distributed in a way that encourages financial responsibility. As an incentive for their service as mentors with Boys and Girls Clubs of Monterey County, they may be eligible for up to $4,000 in additional support through club service.
Mentors and counselors from Executives-in-Residence continue to serve as a safety net for participating students. Throughout their college years, at least once a month, the students meet with adult volunteers to gain inspiration and practical advice. Social and economic integrity are built, one relationship at a time.
Please let us know ways you might help! My contact information: (831) 582-5015.