Integrity Matters
June 11, 2008
Lead the way by excelling in life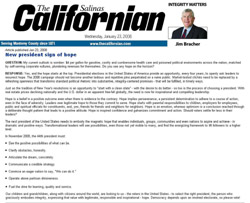 Question: (E-348)
Caring more than others think is wise.
Risking more than others think is safe.
Dreaming more than others think is practical, and
Expecting more than others think is possible.
On May 16, "Lead the Way with Excellence" was the topic of a commencement address for 168 recipients of a masters of business administration from the Tippie School of Business at the University of Iowa. Eric P. Hansotia, general manager of Deere Harvester, East Moline, Ill., emphasized the importance of "leadership," saying:
Scrap the career map: Don't waste time mapping your career. Instead, get totally focused on driving excellence in your current role.
I've learned through my decidedly zig-zag career path that growing isn't always "up," and it's important to view each position as a chance to make yourself more valuable to the company by generating excellence, and inspiring it in others.
Maintain work/life balance: Often, I find that 80 percent of the total impact of priority lists lie in 20 percent of the "to do" items. Instead of starting at the top of the list and working down, I first take care of those few items that will generate the biggest impact.
Do the right thing: As you lead the way, be sure to do it in the right way. Examine your personal value system and pick your role models carefully. It's up to you to decide - when faced with decisions - what to do with that talent.
Integrity is one of John Deere's four core values, and throughout the enterprise we talk about "the how" - how we will reach our goals, how we will perform our duties, how we will treat our customers and suppliers by always doing the right thing.
Generate excellence: As a leader it becomes ever more critical for you to inspire large groups toward a breakthrough change and build alignment on how to execute in order to achieve excellence.
I keep a framed print in my office that was given to me as a wedding present by my college roommate. Its inspiring words are a persistent reminder for me to do my best. Here's what it says:
"Excellence is the result of caring more than others think is wise, risking more than others think is safe, dreaming more than others think is practical and expecting more than others think is possible."
If you limit yourself to what others are already confident is wise, safe, practical and possible, then you will have confined yourself to yesterday's constraints, seldom leading the way. Integrity-centered leaders and socially responsible entrepreneurs always care, risk, dream and expect, paying for their mistakes and savoring their successes.