Integrity Matters
June 4 , 2008
Team USA an example for all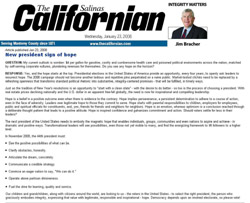 Question: (E-347)
My wife, Jane, and I were guests of our special friend, Susan Merrill, on May 23, when Team USA, the 2008 U.S. Olympic softball team, played an exhibition game at the Salinas Sports Complex. Team USA played against a squad of college standouts. Team USA stopped in Monterey County to visit the hometown of one of its stars, Monica Abbott, while raising funds for its travels to Beijing later this summer.
So, there we were, watching an exciting and maybe a once-in-a-lifetime event, alongside about 3,500 others, cheering the local team, encouraging them to perform at their best. And, simultaneously, we wanted our nation's Olympic team to confirm its excellence - on the field and off. From every perspective, we were proud and very satisfied. The game was not as much about winning as savoring superior athletic performance and honoring a local talent who has reached the pinnacle of her sport - representing the United States in the Olympic Games.
So, what is the message?
A local athlete remembered her roots. Monica Abbott came home.
A local community took the time to say thank you to a former resident, allowing her to say thank you for the opportunities afforded her. The city of Salinas, North Salinas High School and lots of local fans joined together to create a venue to say: Congratulations! We are proud of you!
Team USA, a gathering of world-class athletes from all over the United States, stepped back and gave center stage - and the spotlight - to one of its own, Monica Abbott, showing her support, respect and appreciation.
Seems the success message remains the same:
Remember who you are and where you came from.
Accept, graciously, the sincere praise of colleagues.
Share recognition, generously, maintaining a true sense of humility.
Young women, from Team USA, before, during and after the May 23 exhibition game in Salinas, reminded us that an Olympic gold medal in Beijing in 2008, which is their definition of excellence, will be a by-product of a good working team. From what we saw and felt, they are well on their way.
A T.E.A.M. is brought together to have its competencies and complementary talents deployed. TEAM excellence demands preparedness, self-discipline and humility, along with a commitment to operate, with integrity, and by being the following:
Thoughtful
Empathetic
Aspiring
Mutually supportive
We are, now more than ever, in need of a solid TEAM everywhere: at home, at work and in the interdependent global village. The economic health of our community - city, county, state, nation and world - is a team effort. Education trumps crime. Respect trumps fear. Cooperation trumps greed.