Integrity Matters
May 21, 2008
Success is goal of firm process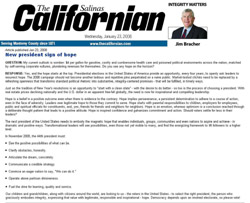 Question: (E-345)
Thousands of fans watched as drivers and teams competed to win automobile races at the Mazda Raceway Laguna Seca racetrack this past weekend. From drivers to mechanics on the pit crews, split-second timing behind the wheels of these super-charged vehicles was matched by the finely tuned and physically prepared members of support teams.
With hopes for victory, dozens of drivers from all over the United States participated, providing a speed spectacle for three days. With no guarantees; each race identified winners and losers. Even so, there were very likely many heart-warming and courageous stories alongside the hard work and heartbreak.
One local racecar driver, Thomas Merrill from Salinas, working his way - one step at a time - into ever-higher levels of competition, invited members of the Boys & Girls Clubs of Monterey County to visit the track Friday afternoon to observe a race and then stop by his race paddock to get his perspective on what it takes to be successful in auto racing.
Merrill, 22, summarized his thoughts regarding success - at least in driving. Success, he reminded the young fans, comes from being productive, caring and responsible. You have to be competent behind the wheel, build solid relationships with team members - specifically pit crew team members - and be willing to own disappointments, even failures, while always sharing credit for success. Success is about being a leader, regardless of age.
First, he encouraged everyone to dream. His dream is to be the best he can be behind the wheel, suggesting that others also be willing to share their dreams.
Second, there is desire, an internal need to accomplish something by bringing something of value to others. What is it that you really want? Are you willing to ask for help?
Third, determination is the drive to achieve, moving an internal thought to an external effort. Are you willing to invest adequate thinking time and energy to create a written plan, even a simple one that maps out objectives?
Fourth, discipline is the willingness to work hard at whatever one wants. Discipline, for drivers, is all about staying clear-headed and physically fit. It means planning the work and working the plan, relentlessly. Discipline comes from the individual commitment to see things through. And, he suggested that discipline applies to school, sports and just about everything people do.
Fifth and finally, destination is the achievement of the success dream. Success seldom comes all at once. However, when the integrity of focused-energy emerges from the dream, through desire, determination and discipline, then success, victories and rewards follow.
Thomas Merrill did not come in first place on the track Saturday, but his integrity-centered insights for young people and older folks - are certainly No. 1 with me.