Integrity Matters
April 23, 2008
Recession shouldn't cheapen Integrity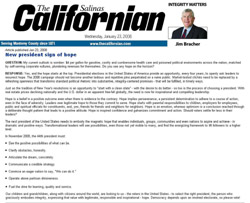 Question: (E-340)
The University of Michigan's April consumer sentiment index plunged unexpectedly to 63.2, the lowest since 62.0 in March 1982.
Consumers have awakened to the probability of recession, more job losses and even tighter credit. A drop of this magnitude - 20 points since September 2007 - will likely be followed by a decline in retail spending.
Response:
So, what is a person to do? Step 1 is to get a realistic handle on expenses and income and determine what must be done to survive until prosperity returns. Whether as an employer or employee, certain actions can transform recession-based stress into an integrity-restoring and constructive response.
Employers:
Assume that transparency is more than a politically correct concept about openness.
Listen to the concerns of your employees and share your own.
Be up front about your plans to keep your doors open, retaining everyone. Sometimes, an across the board "reduction in hours" can keep most and maybe even all employees on board - with health insurance and other benefits - until the dust settles and the economy gets stronger.
Make sure any sacrifices requested of employees start, first, at the top.
Lead by example, accepting the reality that while employees may work fewer hours, owners and managers are likely to work longer and harder for less.
Confirm that your commitment is to honor current sacrifices by rewarding those who will share in the short-term pain for longer-term gain.
Deliver in a timely way on all promises made.
Smile frequently, offer encouragement and remain upbeat.
Employees:
Go the extra mile with energy, commitment and attitude.
Determine, realistically, just how much your income can be reduced and still enable you to stay with your employer while maintaining your fundamental commitments to those who depend on you. These are hard times, so be sure to distinguish between "nice to have items" versus the necessities.
Find ways to work smarter, reducing waste, increasing efficiencies. Customers, clients, patients and prospects are all in a "buyers market" - so go the extra mile to communicate your organization's desire to provide superior service.

Answer phones enthusiastically and promptly.
Greet customers/clients/ patients warmly.
Respond to requests immediately, with accurate information, graciously.
Follow-up promptly to all questions and complaints.
Avoid shifting blame by owning problems while sharing credit.
Reassure your supervisor that you are remaining "on board" - assuming that you are - willing to stay the course and help your organization to weather the storm, confident that the economic rewards will be shared when ownership receives them.
Employers and employees addressing mutual challenges together, relying upon integrity-centered leadership, are more likely to prosper despite recession pressures.