Integrity Matters
April 9 , 2008
Success requires eye of the tiger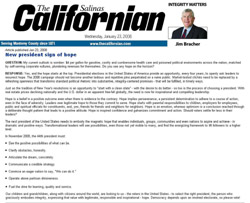 Question: (E-338)
Certain golf observers speak with disdain about the tremendously competitive approach exhibited by possibly the greatest golfer ever. And, whether or not one is a fan of Tiger Woods, his ability to reach and sustain peak performance is magnificent. My concern is about those who say "he expects to win every tournament" as if anyone intentionally enters any contest, seriously, as an amateur or professional, without intending to win. An individual might know that the odds of winning every time are not high, however, the intention to perform at the highest level must be there, or why else compete?
Response:
My objective is not to convert sports enthusiasts into the Tiger Woods fan club. Rather, it is to open a discussion on the importance of proper disciplined preparation along with focused execution-excellence. Tiger Woods is a sports phenomenon. He was carefully prepared, by his parents, to exceed expectations - beginning as a very young child - and, it appears that he did not disappoint them. So, what is the lesson to be learned?
Performing consistently at the highest levels of excellence is not an accident. The situation in which Tiger Woods finds himself - continually rewriting the record book in golf - is something to be studied and admired by current and future generations as worthy of emulation if not duplication. And, why not? He is pursuing his passion: golf. He has made the sacrifices necessary to continuously improve, in order to win.
Who can name one person, in any walk of life - known as a winner - who lacks the spark and fire of competition? They have one goal in common: to be the best that they can be and help those around them on their team to be the best that they can be. Basketball superstar Michael Jordan, NASCAR driver Jeff Gordon, Microsoft CEO Bill Gates, entertainer Bob Hope, any serious presidential candidate, special education teachers and others we have met along the path of life, including supportive parents, responsible members of the clergy, mentors, leaders of civic clubs, public servants, and yes, our precious close friends.
So, why not go out each day, like other high performers, with the same intensity?
Set goals that demand superior performance.
Prepare and follow through, playing by the rules.
Solicit feedback, frequently, making performance-improving adjustments.
Pass along appropriate insights and disciplines, enabling others to do even better.
Encourage a winning approach through personal example.
Praise successful achievement, wherever it appears.
Honor excellence - personally and professionally - celebrating the importance of integrity-centered successes. Winners deserve to win because of their work ethic and their code-of-conduct - in sports, academics, business, politics, public service and interpersonal relationships.