Integrity Matters
February 27, 2008
Positive attitudes, behavior motivate positive outcome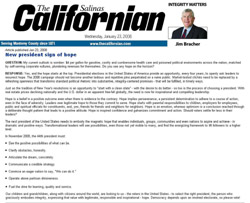 Question: (E-332)
Salinas Mayor Dennis Donohue invited me to attend the city's third annual Faith Community Luncheon on Jan. 30. His objective is to transform a violence-troubled city of 150,000 people into a peaceful community, where each citizen feels confident, cared for, safe and positive.
Over and over, community leaders emphasized that positive attitudes play a major role in the successful achievement of any worthy goal - including building a peaceful city, county and world.
People make a difference with constructive leadership behaviors, and, when coupled with responsive follow-through, they transform lives. For those who know me, such simplicity smacks of a bad case of Pollyanna-ish thinking. And, it does. But, it works.
Here is a summary of what was provided to each of the several hundred attendees Jan. 30 on an anonymously produced, plastic, credit-sized card. Sound management principles, effective ways to maximize talent and profits are really quite simple human-relations practices.
Good business and good citizenship is built on straightforward, integrity-centered behaviors. As you read through the two lists, consider how you might modify personal behaviors to more effectively harvest maximum results, especially if you find your responses are negative. In contrast, positive attitudes and behaviors motivate.
In order to harvest - or, in more businesslike terms - to capitalize on productive relationships take these steps:
Practice forgiveness, leveraging team unity for maximum results.
Exhibit patience and leverage order.
Demonstrate humility and leverage acceptance.
Be respectful and leverage admiration.
Be honest and leverage trust.
Demonstrate responsibility and leverage maturity.
Show commitment and leverage perseverance.
Expect and model discipline and leverage character.
Or, you can work on the negative side and create:
Bitterness from unforgiving responses that generate disunity.
Confusion from impatience magnifying disorder.
Anger that often arises from dishonor establishes an environment of rejection.
Loneliness, a by-product of disrespect, spawns enemies.
Suspicion created by lies and deceit brings distrust.
Recklessness and irresponsible behaviors sanction immaturity.
Weak performance emerges from uncommitted role models and telegraphs insecurity.
Disorder is the result of undisciplined efforts and creates disastrous disruptions.
The attitude of public servants, such as mayors and peace officers or members of the faith community, in partnership with every citizen -- whether at home or in the workplace, as senior executives or front-line employees -- sets the tone.
Positive treatment of others, in public or behind closed doors, determines the health, vitality and sometimes even the success of marriages, families, communities, social institutions and business organizations. Leadership is an integrity-centered attitude shaping productive behaviors!