Integrity Matters
February 20, 2008
Honoree shapes integrity template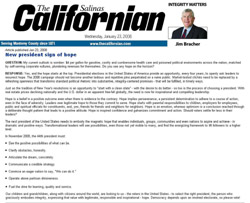 Question: (E-331)
Where do you get ideas for your Integrity Matters columns?
Response:
Integrity-centered leadership responses are best developed by listening and observing admirable individuals and organizations. On Thursday, the Salinas Valley Chamber of Commerce selected recently retired attorney, Tim McCarthy, as its Citizen of the Year. After hearing accolades offered to praise McCarthy's accomplishments, his Stanford and Harvard degrees and his many years of public service, what made the biggest impact was his response. Tim's gracious acknowledgment was an outline for leaders, everywhere.
His bottom line:
Blessed by his marriage to his wife, Candy, the love of his life, for nearly 38 years, whose steady encouragement enabled him to get involved and make a difference.
Blessed by his relationship with his law partners (Anna Caballero, Susan Matcham and Helen Hempel) with their shared business vision giving each partner the freedom to serve the community.
Blessed by a faith tradition that has instilled in him from his earliest memories, a sense of service by teaching and giving back - shaped by a God of love that unifies all of life.
Comfortable in the belief that we are all brothers and sisters regardless of the color of our skin, religion, language or where we live.
Knowledge that there are right and wrong ways to act toward one another and that each of us is called to act in the right ways.
Talking the Talk is not nearly as challenging as Walking the Walk.
On a daily basis, each of us is presented with opportunities to be of service to others, and youth are a case in point because they really need us. If you want to know how the kids are going to act - then watch how the adults behave. Therefore, when we are with or around younger people, we need to be at our best; and this includes our own children, our grandchildren, nieces and nephews or neighbors.
Whether we live in Toro Park or north Salinas, in Prunedale or Gonzales, in south Salinas or east Salinas, we really are in this together, and it is our collective future that is on the line - being our best is a must.
Tim asked attendees to join him in his daily prayer to become bridge builders and not wall builders; united by our commonalities, able to celebrate our differences, and knowing that our words and deeds should emerge from loving hearts, not from hate or fear.
And, when faced with an opportunity to serve youth, especially, that we might - each of us - say, "Yes!"
Tim McCarthy's integrity-centered "accountability" message is for every leader - whether in the public or private sectors.