Integrity Matters
February 13, 2008
Be sure to keep your hopes up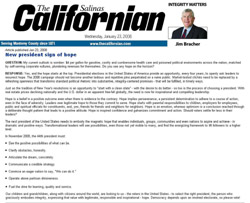 Question: (E-330)
What is your response to those suggesting that your integrity approach, with its focus on the positive, is naive?
Response:
They have an excellent point because there are many times when the cynics get and seem to keep the upper hand. Negativity is a powerful weapon, but it is no match, over the long haul, for positive attitudes, steady enthusiasm and relentless perseverance.
On Jan. 24, a New York Times article noted that "voters are showing a darker side than eight years ago. One individual, Susan Powell, a 47 year-old training consultant who lives in a Kansas City suburb, said that what she feels is not so much hopelessness as doom."
Even though my reaction to current events is not despair, one can only wonder just how many folks are reacting in similar ways. What impact is their fear, uncertainty and doubt having on the youngest and most vulnerable - the children? One thing can be sure; optimism will not be riding high. Yet, it needs to be. Certainly, we do not live in the worst of times. And, even with the real difficulties we face, we have the capacity to capitalize on the obstacles, making lemonade from lemons. A hope-filled approach will help!
Without HOPE, life quickly becomes pretty miserable. HOPE is the key to success for learning, leadership and leveraging life's opportunities to the fullest. HOPE needs to come early and often and can transform anxious, uncertain and insecure individuals, young or old, into mission-driven and motivated powerhouses. HOPE is the byproduct of time graciously invested in listening, supporting and encouraging those on whom we depend to pass along constructive and productive cultural values. Leaders know that spreading HOPE is essential - personally and professionally.
HOPE reminds individuals of all ages that Hard Work Overcomes Powerful Entrance-blockers!\
HOPE confirms that mentors Help Orchestrates Purposeful Energy.
HOPE, provided by gracious mentors, facilitates Heroic Optimization Propelling Effectiveness.
HOPE inspires Honesty, Operational transparency, Professionalism and Enthusiasm.
Parents, friends, instructors and peers can serve as integrity-centered role models who teach, coach and sustain HOPE.