Integrity Matters
August 15, 2007
Don't overlook value of failure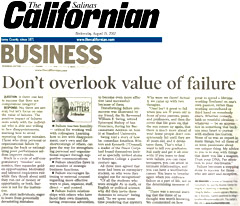 Question: (E-304)
Is there one key to success that does not compromise integrity?
Response:
No, there are several, but let's focus on one: the value of failures. The positive impact of failures rests solely with the individual who is able and willing to face disappointments, learning how to avoid repeating the same mistakes. Those who deny personal or organizational failure by passing the buck or rationalizing poor performance seldom improve results.
Stuck in a cycle of self-congratulatory "voodoo" economics, they squander golden opportunities. Motivated and talented employees exit while they thrash about until they run out of money or opportunity, or both. Success is not for the inattentive.
For alert individuals, eager to learn from potentially devastating mistakes:
Failure teaches humility — critical for working well with colleagues. Learning how to live with disappointment, one's own and the shortcomings of others, can pave the way for strengthening personal and organizational impact through supportive communications.
Failure identifies flaws in any number of strategic business functions.
Failure encourages listening to external counsel regarding more effective ways to plan, organize, staff, direct — and control.
Failure builds relationships with others who have faced their own disasters, having overcome adversities, to become even more effective (and successful) because of them.
Transforming failure into success was illustrated by my friend, the Rt. Reverend William E. Swing, retired Episcopal Bishop of San Francisco, during his Baccalaureate Address on June 16 at Stanford University.

Swing told a story of how he, comedian Jonathon Winters and Kenneth O'Donnell, a leader of the Peace Corps had found themselves invited as specially invited alums to Kenyon College a quarter-century ago.

All three men agreed that none had been an exemplary student, so why were they singled out for recognition?

"Of all the students who were straight A's in math, or English or political science, why did they invite three dummies to return?" Swing said. "So we spent some time pondering that mystery. Why were we there? Actually we came up with two thoughts.
"One! Isn't it great to fail when you are 19 years old in front of your parents, peers and professors, and then discover that life goes on, that the sun comes up again, that there is much more ahead of you? Some people don't conspicuously fail until they are 45 years old, and it devastates them. That's what I want to tell you graduates. Fail early and get it all over with! If you learn to deal with failure, you can raise teenagers, you can abide in intimate relationships, and you can have a worthwhile career. You learn to breathe again when you embrace failure as a part of life, not as the determining moment of life.

"There was a second learning that the three of us thought was worth knowing. We commented on how great to spend a lifetime working firsthand on one's own passion, rather than working secondhand or third hand on somebody else's. Whether comedy, faith or youthful idealism — whatever — be an apprentice in something that beckons your heart to pursue with endless fascination. None of us was an expert in many things, but all three of us were passionate about one unique thing. My advice to you is to stay with things that draw you like a magnet. Trust your DNA. Pay attention to your daydreams."

Failure becomes a stepping stone to success for those who are alert and receptive.