Integrity Matters
June 16, 2007
Keys returned to owner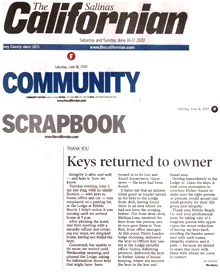 Integrity is alive and well - and here is how we know.
Tuesday evening, June 5, 2007, my key ring, with no identification - with keys to home, office and car - was misplaced on a parking lot, at the Lodge at Pebble Beach, I didn't notice it was missing until we arrived home at 9:00 p.m.
After phoning the hotel, and then meeting with a security officer, retracing our steps, we returned home, having not found the keys.
Concerned, but unable to do more, we waited until Wednesday morning, and phoned the Lodge, asking for information about keys that might have been turned in to their lost and found department. Great news - the keys had been found.
It turns out that an unidentified guest or tourist turned in the keys to the Lodge Front Desk, having found them in an area where we had not been the evening before. The front desk clerk, Melissa Lose, received the keys from this person, who in turn gave them to Troy Reil, front office manager. At this point, Parris Loader, lodge doorman, delivered the keys to Officer Ray Santos at the Lodge security office. Santos, following protocol, delivered the keys to Esther Alaniz of housekeeping where she secured the keys in the lost and found area.
Driving immediately to the Lodge, to claim the keys, it took extra persuasion to convince Esther Alaniz to make sure the right person or persons, would accept our small gratuity for their diligence and integrity.
Thank you, Pebble Beach Co. and your professional team, for taking care of a long-time patron who appreciates the stress-reduction of having my keys back, avoiding the hassles associated with such losses. Integrity Matters, and it pays - because we intend to share this story with those with whom we come in contact.
Jim Bracher
Monterey