Integrity Matters
December 20, 2006
Resolve to keep your New Year's resolutions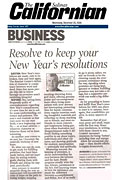 Question: (E-270)
Dear Jim:
New Year's resolutions are made, only to be broken, time and time again. The Bracher Center's definition of character is consistency between word and deed. Does that mean people who fail to follow through on promises aren't exhibiting integrity?

Response:
Yes, having been frequently guilty of overzealousness regarding New Year's commitments, it's now time for me to ask for some understanding, tolerance and patience. The year's end reminds us that very soon we can start fresh, a new beginning, and fix - or at least address - whatever character or behavior flaws we've been tolerating.
As another year comes to an end, Jan. 1 becomes the symbolic birthday of new hope.
So, what can one do, now, to get ready for fulfilling promises that have been made before, and not kept? Start by setting realistic goals, sharing them with friends and asking for support, periodically.
Also, prepare to monitor progress along the way so milestones will become beacons of hope on the path to: losing weight; stopping smoking; throwing fewer golf clubs; offering genuine praise and encouragement more often; being more patient with slow drivers; not interrupting; protecting time for family conversations; regular exercise; reading thoughtful materials and reflecting on them; reaching out to friends, and even ex-friends, to show concern and forgiveness; being gracious when frustration and disappointment make it difficult; finding something positive to say about topics, individuals and other cultures; and showing gratitude for multiple opportunities - personally and spiritually.
Measuring success, the keeping of promises, is about understanding the race between the tortoise and the hare. Steady progress usually wins the day. Always, persistence is the key. And knowing where to turn for assistance can mean the difference between accomplishment and defeat. Few of us really do go it alone; rather, we rely on friends to be the cheering squad, the ever-present conscience along the way, signaling when promises are being kept, ignored or broken. Fulfilling promises may not take a village, but a supportive network can make a big difference.
As for preparing to honor and fulfill New Year's resolutions for 2007, one place to start is to assume, once again, that possibilities are alive, in many aspects of life.
Remember that all journeys, great and small, begin with the first step. Share your resolutions, in writing, with those closest to you. Commit necessary resources for being "better", including time and energy.
Allow for occasional slippage - then double efforts to regain momentum.