Integrity Matters
September 17, 2003
It's essential for our culture to curb greed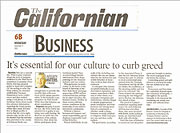 Question: (E-067)
You are a consultant. What is your response about the level of integrity exhibited by the Wall Street consultant-economist, Peter Davis, who has pleaded guilty to fraud and conspiracy? According to what has been written, he attended confidential Treasury Department news conferences and then rushed, using a cell phone, to notify Goldman Sachs about sensitive, advance information regarding the bond market, where they made $3.8 million in illegal profits. It seems that the extra-eight minute edge on the rest of the market that his information provided to the crooks at Goldman Sachs was enough time to provide this wealthy firm with even more profit taking opportunities. Is this behavior common place on Wall Street? What does this behavior say about consultants?

Response:
Integrity is never for sale. Mr. Peter Davis has admitted that he is guilty of violating trust and cheating. He deserves to suffer the consequences of his actions. However, what about his fellow participants from Goldman Sachs? They accepted illegal insider information. How disappointing for the financial industry and our society. This particular incident comes on the heels of the board of directors of the New York Stock Exchange approving a $139.5 million controversial pay package for its chief executive, Mr. Richard Grasso. Neither of these events will help restore confidence in the leadership of our nation's investment community.
Without a balance between self-interest and social responsibility, greed displaces responsible leadership behavior.
Honest individuals, in any walk of life, including consultants like me, are diminished by the destructive and selfish behaviors of those who work in their field of endeavor.
A colleague who violates accepted standards of conduct infects reputation and stature, sometimes a little and, at other times, very seriously. Corruption and misbehavior, whether illegal or simply inappropriate, erode confidence and trust between and among members of a community - whether small or large, business or social, political or religious. What each person says and does really matters.
The good news, according to the Associated Press, is that the U.S. Attorney, James Comey has said, "A scheme to steal confidential information from the Treasury Department and tip off others shakes the confidence of the investing public and it is not to be tolerated." Mr. Davis violated the embargo, meaning he was obligated not to disclose any information ahead of time.
The proof of Comey's comments regarding intolerance for such behavior will become real when those who were involved with Davis, from Goldman Sachs, are identified and dealt with effectively.
Until this type of behavior is rooted out and all participants are brought to justice, the word scapegoat is not far below the surface.
Controlling greed and selfishness is essential in order for our culture to be sustained.
Democracy and free-market capitalism depend upon the constancy of integrity - throughout the system.
Integrity is the keystone for sustaining our social, economic, and cultural structure.