Integrity Matters
August 20, 2003
Integrity of a sport in hands of the players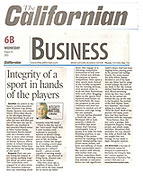 Question: (E-063)
Dear Jim:
An article in the Sports section described how Winston Cup driver Jimmy Spencer rear-ended fellow driver Kurt Busch at the Michigan International Speedway in pit row after the race and then got out of his race car, ran to Busch's car, reached in and punched Busch several times before being restrained. Busch reportedly has a broken nose. One or more other drivers were said to have supported Jimmy Spencer, which seems to reward irresponsible behavior. What does this say about the integrity of this sport?

Response:
First, one person losing his temper is not saying anything negative about an entire sport. Two individuals were engaged in an altercation. Yes, immature behavior does say something about those who are engaged in it. These two world-class racecar drivers, Busch and Spencer, have had run-ins on the track in the past. In March 2002, at Bristol Motor Speedway, Busch bumped past Spencer to get his first Winston Cup victory. There have been several on-course incidents since, but not physical confrontations.
Allowing competitive frustrations to boil over into violent acts defeats the purpose of sports competition. Once upon a time, sports were viewed as the socially acceptable way for warring factions, even ancient cities, to work out their frustrations with one another. Bragging rights on the sports field replaced dead bodies on the battlefield. We hope our progress in the past continues and does not regress in to random acts of violence, road rage being but one example.
Second, having attended a NASCAR race, the Brickyard 400 at Indianapolis, it is incredible that more bumps don't become catastrophes. Lots of money is at stake for each finishing position, to say nothing of the points earned for standings in the annual championship race. Points mean dollars, millions and millions of them. Being pushed out of contention, inappropriately, is serious business. These automobiles move like rockets with wheels, only inches from one another, sometimes three across into skidding turns. Competition is fierce. The physical and mental stresses must be overwhelming. Any mistake or miscalculation can risk significant rewards, even life itself. This is not simply a game; it is the livelihood, perhaps even the life, of those capable of handling the competition.
Third, is this the end of the "race-track" feud? Will it now escalate until someone is seriously injured or killed? Cheap shots and cheating in any part of life, including sports, violate the integrity of creating a level playing field. When lethal weapons in a driver's hands, in the form of pieces of steel capable to moving nearly 200 miles per hour, are directed at doing harm, disaster cannot be far behind.
Fifty-four years ago, a neighbor, also four years old at the time, joined me to watch my father build a fence. Dad was busy digging holes, placing posts in the ground and nailing boards. For some reason the little fellow, Jimmy, decided to see if the hammer my father had been using would reshape the back of my skull. It did. My scream alerted Dad that all was not well. Blood streaming down my face was a problem. As he carried me toward the car, on the way to the hospital, the mother of the little Jimmy "hammer slammer" was heard asking in a loud voice, "Who hit first?" Both of my parents told many years later that they had been horrified with the response.
It did not last for a long time, but little Jimmy and I did not play together for a while. And when we did, things were back to normal, except for the bump on my head. Even so, it was never appropriate for me to retaliate. Nor did my parents carry a grudge. Rather, the incident in our family was a lesson in manners, graciousness and care for those about us: both parents and children. Misjudgments happen. Young people and adults make mistakes. Situations find remedies. And, so too should the folks at NASCAR. We are taught that two wrongs do not make a right. Integrity matters.