Integrity Matters
April 2, 2003
Feedback: "KNOW AN ETHICAL COMPANY?" SURVEY
Local bank steps up for integrity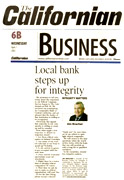 Question: (E-037)
We promised to tell you, today, about the responses to our Ethical Company Survey, begun in The Californian on February 26, 2003. We received one nomination, Community Bank, and are pleased that the leader of that institution is willing to be recognized.
Obviously, this signals that our community is willing to stand up and be counted.
Now, what might a low response or almost no response mean?
So for the time being, please accept a sincere "Thank You" for your interest in our efforts to spotlight ethical companies. We will return to the nine questions when the world settles down with the hope that you will provide us with a long list of qualified nominees. In the meantime, remember, integrity matters