Integrity Matters
January 29, 2003
Boss showed respect for worker's skill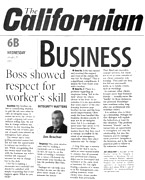 Question: (E-021) My brother-in-law is considering whether he should quit his job over what he calls an integrity issue. It seems his boss, the owner of a small company, left town without telling him. He left him in charge without my brother-in-law knowing that the owner was out of town and out of reach, even should an emergency have arisen.
The owner had a compelling personal reason, but did not take the opportunity to inform my brother-in-law. While recognizing that the owner must trust him with the business, my wife's brother felt exposed because he was in charge, but in the "dark."
I feel he is making a mountain out a molehill and should be satisfied with simply requesting that it not happen again. What do you think?

Response: Yes, your relative may well be making a mountain out of a molehill. In fact, he may be on the brink of trading "a moment for a career". Obviously the boss trusts your brother in law. He probably likes him, too.
Perhaps we can help your brother-in-law see the situation more clearly if we separate the "issues":
Item No. 1: He has earned and received the respect and trust of the owner. He was left "in charge!". That is a significant compliment. It means the boss trusts your wife's brother.
Item No. 2: There is a problem regarding an employee being "left in the dark" about the whereabouts of the boss. As an outsider, it is my speculation that some aspect of the relationship between your brother-in-law and the boss needs improvement. Obviously the boss handled this business decision poorly. It may not be an integrity issue, but it is a management issue that needs to be fixed immediately. Wise leaders know that they need to remain accessible in the event of an emergency, especially when they place someone else "in charge".
A long time ago, a mentor advised me that it can be naïve or even unreasonable to assume that all personal and professional relationships can be developed and sustained at the same level of intensity. He was right. During a quarter of a century in the management consulting business, some clients were closer professionally than personally. They liked our "executive counsel" services, but chose not to be as close outside of our client-counselor relationship. They paid our fees, but did not necessarily invite us to family events, such as weddings.
In contrast, other clients became more than business friends--actually more like "family". In those instances, our personal friendships have continue today, long after our professional relationships ended.
It is seldom wise to "blow up" a friendship. Perhaps further dialogue will explain the behaviors, at least for this situation. This problem between "friends" can be turned into an opportunity to strengthen not only the relationship, but also the business and its management practices. Integrity is the key stone and is the only practical path to follow to "fix" whatever is broken.