Integrity Matters
January 22, 2003
Does college teacher get passing grade in Integrity 101?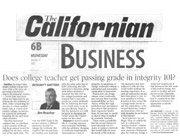 Question: (A-002) As a part-time, single, female, college student with a full-time job, pursuing a bachelor's degree in computer science, every class and every dollar are important to me.
During the Fall Semester of 2002, while completing the second of a three-session math class, at a local community college, an instructor created an economic hardship for me and many other students.
Our first instructor required that we purchase a new calculus textbook that he promised would be utilized for all three semesters of the math class. The cost was $200. Early in the second session, a different instructor decided to change the textbook. She required that we purchase yet another new textbook, with the same price-tag of $200. Following the new instructor's directive, along with fellow students, I returned the first text to the college bookstore and learned that it was only worth (as a used textbook) $15. So, believing the book to be worth more to me in my own library, I kept it. For me to earn $400 dollars requires a lot of hard work. Obviously, heavy, unplanned and possibly unnecessary expenditures create hardships. However, difficult as earning and spending the money was, that is not my biggest concern.
My question is this: did the instructor act with integrity in changing the "rules" about the requirements for her class?

Response: It doesn't sound like it. Creating unnecessary economic hardships, with the arbitrary changing of textbook requirements, demonstrates a lack of integrity. At minimum, to change textbooks without a substantial and reasonable explanation is insensitive.
Instructors can design classes, select textbooks, and execute their teaching responsibilities as they choose within the legal guidelines and operational procedures that pertain to their respective institutions. In one way or another, that is what is implied by academic freedom.
There exists a possibility that the second instructor acted sincerely out of a desire to replace a textbook that would truly not meet the needs of the students. The instructor may have replaced it with one which would better facilitate the learning experience. If so, such an explanation should have been given to you. As your question is written, however, it does sound like a change made merely to suit the convenience of the second instructor. Leaders, and instructors who act with integrity, do not behave in that manner.
Such behaviors are not illegal. They do exhibit the lack of a substantive "teacher-student" relationship. While not present in your classroom during and after the textbook change, it would not surprise me if that instructor had lost most of the positive energy that can be so healthy and productive in the classroom.
You will determine how best to communicate this instructor's behavior to appropriate academic authorities.