Integrity Matters Broadcasts
February 12 , 2008

"Nothing is too good . . . for other people's money"
Dear Friends:
Growing up in Midwest in the 1950's – my father often repeated certain pieces of simple Indiana and Missouri wisdom – and over the years some of those phrases have taken root.
Dad would say "Make sure that you don't develop a champagne appetite when you only have a soda pop income." Living beyond one's means was, at least to him, a social and economic sin. It put everything at risk, for the wrong reasons. It meant that one was acting in ways that were inconsistent with who they were. Extravagance was way too silly a way to live for someone like my father who had grown to maturity during the Great Depression.
And, alas, welcome to the 21st Century! We as a society have become overpriced, over-fed, over-blown and out of control. Discipline has been replaced with self-indulgence.
A great many of our present-day political leaders, at least in the United States, would upset my father, for several reasons. Two reasons come to mind immediately: not managing the public's cash flow properly, and, when caught behaving irresponsibly, making matters worse by compounding the sin with even more spending. He said, more than once that some folks are way to eager to spend your hard-earned dollars for what they want, choosing to go 'first- class' on your nickel, when they would never do so were it their own money."
A simple test for those who like to entertain their guests with wines and scotches, or any liquid refreshment (for those who repudiate any consumption of alcohol, this might be a little offensive, but it works) – try this: compare what you serve for your guests – that they come to expect - with what they provide, assuming they select the "finer" brands when you are paying the bill. Sometimes those who practice spending carelessly can be observed sitting on boards, serving on committees, holding public office or simply handling another person's checkbook – regardless, for them: "nothing is too good for other people's money."
As we watch our society, and nations around the world, address this current economic challenge – my father's wisdom will be on display, being applied and being ignored.
Bringing practical lessons home, at least for our ten Pay If Forward Scholarship recipients, was the message delivered on Friday, February 6, 2009, by Ms. Theresa Wright. Reminding our students that perseverance and tenacity are at the very center of success, Theresa told her story of how she found opportunity and success. My wife, Jane and I, consider Theresa both a personal and professional friend. And, to hear her speak of her sojourn was inspiring. If you have an opportunity to listen to her – don't miss it.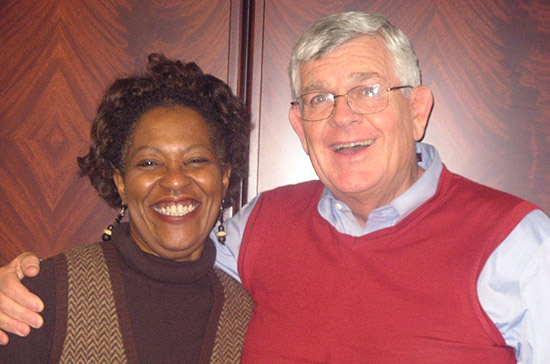 Theresa Wright, Public Affairs, KSBW Television, Salinas/Monterey, and Jim Bracher
Executives-in-Residence's Pay It Forward Scholarship ON RAMP provides mentoring and financial support for first generation college students from Monterey County who attend California State University, Monterey Bay, in Seaside, California.
On Friday, February 6, 2009, Pay It Forward Scholarship recipients – at one of their twice-monthly group mentoring sessions at the CSUMB office of Executives-in-Residence, with Guest Speaker Theresa Wright and Jim Bracher.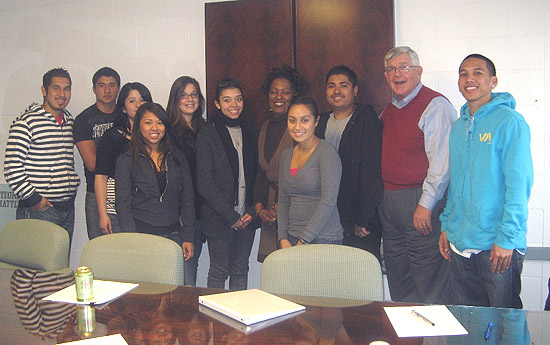 Pepé Esquivel, Carlos Magaña, Angelica Roa, Josephine Castillo, Imelda Muñoz,
Tianna Esparza, Guest Speaker: Ms. Theresa Wright, Maira Pantoja,
Victor Marinelli, Jim Bracher and Sean Capistrano.
Hopefully, we have passed along to our students, and yes, to you, our readers, that my father's wisdom was valuable:
---
Jim
James F. Bracher
Founder
Dimension Five Consultants, Inc.
Bracher Center for Integrity in Leadership
P.O. Box 22467
Carmel, California 93922
www.brachercenter.com

And at:
James F. (Jim) Bracher, Director
Executives in Residence
University Corporation at Monterey Bay
California State University Monterey Bay
100 Campus Center,
Building 201 - Suite 101
Seaside, California 93955
Phone: (831) 582-5015
Phone: direct: (831) 582-5038
(831) 582-5019 Fax
jfb2c@brachercenter.com