Integrity Matters Broadcasts
November 21, 2008
Dear Friends:
Recently, our eight Pay It Forward scholarship recipients who attend California State University, Monterey Bay, were reminded of three important phrases, as taught by the formerly-famous children's television host: Captain Kangaroo. The "Captain" challenged young people to remember to say: Please, Thank You, and, when things go badly, to employ: I am sorry, I made a mistake. Seems this gentleman of the airwaves left an important interpersonal communications message—a gift—that can, when applied sincerely, transform obstacles into opportunities.
What follows below is a wonderful gift of appreciation – an acknowledgment with kind words – in response to a donation that my wife, Jane, and I, made to a local grade school in Carmel Valley, California, where our daughter, Beth, had been a student. What prompted our giving was a second-chance at life, after being told that I had three days to live, in August, 1993. When one feels he or she has "dodged a bullet", one can demonstrate appreciation by "paying forward" to make sure others can benefit from another's good fortune. What makes the story below so precious – to us – is that All Saints Episcopal Day School, and its leadership team, pauses at least once per year to say the magic words: Thank You. Our words in response are simply: You are welcome.
Jane and I were honored to be recognized. And, we are a little self-conscious about distributing the story about us. However, the story published in Reflections about our investment in All Saints is about how kind people choose to say thank you, and it provides yet another occasion to encourage friends and colleagues to pause – especially during this season of thanksgiving – and find organizations and individuals to pass along whatever gifts that might be shared: time, talent, money, enthusiasm, reassurance, kindness, hope.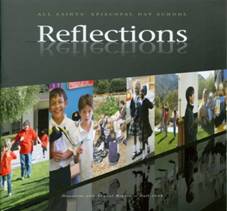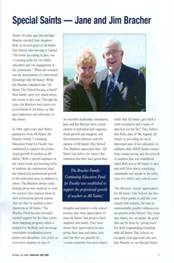 Click here to read the entire article.
Thank you, All Saints Episcopal Day School, for your kind comments. Your dedication to changing lives, past, present and future, including ours, is remarkable. Keep up the good work. Being appreciated is a reminder to show appreciation, choosing to "Pay It Forward" – graciously.

Give what you can, when you can, where you can – but give!

These are tough economic times, just about everywhere, and especially for not-for-profit organizations that depend upon gifts for survival. Find those whose vision you share – and give, as much as you can as soon as you can.

In reviewing some of my earlier writings, in this instance all the way back to 1991 when I published in the San Jose Mercury News, San Jose, California "A recession antidote is people enhancement"- it occurred to me that we have some good reasons to remain optimistic, even today. Others have faced down-turns in the economy, and they have survived, even prospered. The reason – they invested in others; not unlike what we are doing with our Executives in Residence Pay It Forward Scholarship program. Our ON RAMP provides a powerful investment in first generation college students in Monterey County, California, enabling young people with promise to be given an opportunity. Please take a look at the economic challenges 17 years ago and learn a few ways to manage through hard times. Here's the action plan. If the link to the PDF is troublesome, try this: http://www.brachercenter.com/RecessionAntidote.html.

Please let me know what you think!

Happy Thanksgiving! And, don't forget to show appreciation.
---
Jim
James F. Bracher
Founder
Dimension Five Consultants, Inc.
Bracher Center for Integrity in Leadership
P.O. Box 22467
Carmel, California 93922
www.brachercenter.com

And at:
James F. (Jim) Bracher, Director
Executives in Residence
University Corporation at Monterey Bay
California State University Monterey Bay
100 Campus Center,
Building 201 - Suite 101
Seaside, California 93955
Phone: (831) 582-5015
Phone: direct: (831) 582-5038
(831) 582-5019 Fax
jfb2c@brachercenter.com