Integrity Matters Broadcasts
July 28, 2008
Dear Friends:
Last Wednesday, July 23, 2008, Executives-in-Residence' Pay It Forward Scholarship program greeted its eight Inaugural Recipients and their families on the campus of California State University Monterey Bay (CSUMB), in Seaside, California. In addition to their financial awards, which will be distributed over their four years of study at CSUMB, each recipient was given a DVD of the movie, "Pay It Forward" and a copy of the best selling book, The Last Lecture, by Dr. Randy Pausch.
Mr. and Mrs. Michael Dorn, Pay It Forward Advisors and Benefactors, provided these gifts for each inaugural scholarship recipient, encouraging the students, their families and all in attendance to live life with an appreciation for what it is that we hold most precious and intend to leave behind.
Just two days later, July 25, 2008, Randy Pausch died. How fortunate for our scholarship recipients that they (and we) can know that our lives were touched by Dr. Pausch's wisdom, his final lecture. His life is reviewed below.
His family

Randy Pausch and his family:

Logan, Chloe, Jai and Dylan.

His book

Leaving his legacy - his final lecture - his values
Carnegie Mellon Professor, Author of 'The Last Lecture,' Succumbs to Cancer
By GEOFF MARTZ, SAMANTHA WENDER and CHRIS FRANCESCANI
July 25, 2008
Randy Pausch, the charismatic young college professor who chronicled his battle with pancreatic cancer in a remarkable speech widely-known as the "Last Lecture," has died at the age of 47. He was at home, surrounded by his wife, Jai, and his three children.
Carnegie Mellon professor, 47, succumbs to pancreatic cancer.
A dear friend to Diane Sawyer and "Good Morning America," Pausch's lecture and subsequent interview was one of the most powerful accounts of hope, grace and optimism ABC News has ever featured, and drew a worldwide response.
"I'd like to thank the millions of people who have offered their love, prayers and support," Jai Pausch said in a statement. "Randy was so happy and proud that the lecture and book inspired parents to revisit their priorities, particularly their relationships with their children. The outpouring of cards and emails really sustained him."
It all began with one, age-old question: What would you say if you knew you were going to die and had a chance to sum up everything that was most important to you? click here to see ABC News' full coverage of his story.
Pancreatic cancer, which has now taken the life of Dr. Randy Pausch, is a reminder for all of us to formulate our own last lecture; sooner rather than later. His words were a powerful way of "paying forward" his key values - first for his own family and friends and now for the world.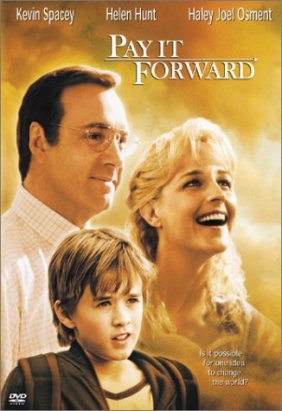 "Pay it Forward"
---
Jim
James F. Bracher
Founder
Dimension Five Consultants, Inc.
Bracher Center for Integrity in Leadership
P.O. Box 22467
Carmel, California 93922
www.brachercenter.com

And at:
James F. (Jim) Bracher, Director
Executives in Residence
University Corporation at Monterey Bay
California State University Monterey Bay
100 Campus Center,
Building 201 - Suite 101
Seaside, California 93955
Phone: (831) 582-5015
Phone: direct: (831) 582-5038
(831) 582-5019 Fax
jfb2c@brachercenter.com