Integrity Matters Broadcasts
July 11, 2008
Dear Friends:
Another of our weekly Integrity Matters columns: (Integrity Matters appears weekly in The Californian – Salinas, California - Reward requires an investment.)
A global soft-drink producer is currently using these words in a television commercial to increase the sales of its very own brand: "You give a little love and it all comes back to you."
They generate billions in profits by capturing mindshare, touching human emotions and causing the public to purchase the company's product. So, is it such a big stretch for a local four-year university to "provide encouragement" to first-generation college students - recognizing that our entire community will likely "get a great deal back" - in the months and years ahead? Of course not!
A client taught me, years ago, that "sometimes you have to give before you get." Investment, another way of saying that one has to risk something in order to create returns, comes in many forms, whether money, kindness, time or energy. Regardless, somebody must make the first move.
Just such a program was established in 2007 at the Foundation of California State University, Monterey Bay. Executives-in-Residence has enlisted 120 successful and influential leaders to open doors of hope and possibility for young people who can become tomorrow's leaders. As the director of this program, located on the CSUMB campus in Seaside, my job is to make sure we provide students with insightful counsel - built on personal example and substantive relationships - helping them to understand their potential, establish milestones and pursue life goals.
Executives-in-Residence's Pay It Forward scholarship program instills the spirit of hope and generosity in the next generation by demonstrating that giving back can truly be the greatest gift of all, especially for the giver. The words "pay it forward" are taken from a book of that title which showcases how helping others can create a cascading chain of goodwill and good works.
Pay It Forward goes beyond the traditional arms-length transaction of providing deserving students with financial assistance for higher education by fostering an ongoing, mutually accountable relationship between recipients and leader-mentors. Students are not merely asked for something in return for the support they receive. They are required to "pay it forward" by providing their own service to at-risk youngsters through a partnership with the Boys and Girls Clubs of Monterey County. The goal is to develop confident and enthusiastic young people who gain both the means to complete their education and the tools to make their own contributions to others while simultaneously growing immeasurably as individuals.
Each student chosen to participate in Pay It Forward receives up to $5,000 per year to attend CSU Monterey Bay, distributed in a way that encourages financial responsibility. As an incentive for their service as mentors with Boys and Girls Clubs of Monterey County, they may be eligible for up to $4,000 in additional support through club service.
Mentors and counselors from Executives-in-Residence continue to serve as a safety net for participating students. Throughout their college years, at least once a month, the students meet with adult volunteers to gain inspiration and practical advice. Social and economic integrity are built, one relationship at a time.
Please let us know ways you might help! My contact information: (831) 582-5015.
So, how can our Pay It Forward scholarship program get started most effectively? As one of our advisors repeats: "Let's look around and see what others have done successfully, and be sure that we are emulating what has already been proven to work and have impact." So, we are doing just that!
Listening, learning and building relationships are three critical activities for growing ideas and organizations. Another of our Advisors passed along to us the story of a somewhat similar program already in its fourth year at Arizona State University. When we sought advice, this came to us, almost immediately.
On April 16, 2008, USA Today told the story of Marie Tillman, widow of Pat Tillman, pro-football player turned Army Ranger, killed by friendly fire and now the focal point of an educational program at Arizona State University – honoring his memory with a positive and action-oriented foundation, dedicated to helping students be better prepared to "tackle" life's challenges, beyond the classroom.
On Tuesday, July 8, 2008, Marie found time to visit with Executives-in-Residence at California State University, Monterey Bay – CSUMB. By way of reminder, Marie discussed her own work at the Pat Tillman Foundation with some of the advisors to the Pay It Forward scholarship program, during and after her luncheon at the CSUMB Visitors and Alumni Center.
Welcoming Marie Tillman to Executives-in-Residence, July 8, 2008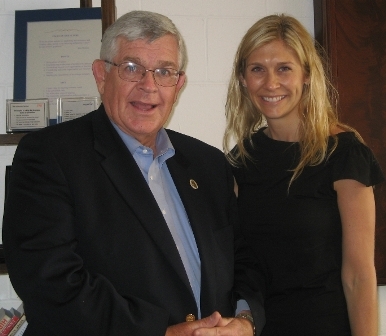 Jim Bracher and Marie Tillman – a powerful woman on a mission


How might we accelerate the impact of our Pay It Forward program?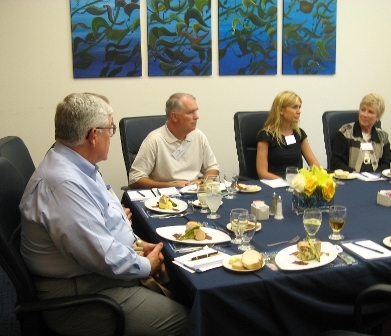 Jim Bracher, Kevin Saunders, Marie Tillman and Jane Bracher


CSUMB Vice-President, Jack Jewett, hosting luncheon - Visitors/Alumni Center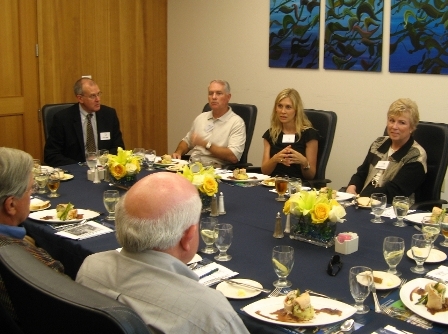 Jack Jewett, Kevin Saunders, Marie Tillman and Jane Bracher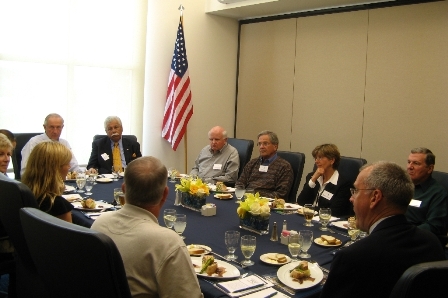 Paul Baszucki, Dan Ortega, Tim McCarthy, Mike Dorn, Donna Ferraro and Murray Yeomans
Learning to more effectively implement Executives-in-Residence's Pay It Forward Scholarship program involves emphasizing that: Education trumps crime, builds hope, prepares minds and transforms communities – one person at a time.

Board of Advisors: Pay It Forward Scholarship Committee

Donna Ferraro, Boys and Girls Clubs; Jim Bracher, Director, Executives-in-Residence; Marie Tillman, Pat Tillman Foundation; Dan Ortega. Chief of Police, Salinas, California; Kevin Saunders, Executive Director, Foundation, CSUMB; Mike Dorn, Benefactor/Advisor; and Tim McCarthy, Attorney, Educator, Athletic Commissioner
Law Enforcement: Education trumps crime
Social Service: Positive role-models transform the world, one person at a time
Benefactor: Investing, financially and emotionally, fuels society's engine
Recipient: What the Pay It Forward scholarship means!
Change Agent: Parrot, Teddy Bear and "tin cup" – providing opportunities
Yes, we are eager to offer our Pay It Forward program development assistance to you and your community. Are you in a position to offer your help to Pay It Forward?

Jim

James F. Bracher
Founder
Dimension Five Consultants, Inc.
Bracher Center for Integrity in Leadership
P.O. Box 22467
Carmel, California 93922
www.brachercenter.com

And at:

James F. (Jim) Bracher, Director
Executives in Residence
Foundation of CSUMB
California State University Monterey Bay
100 Campus Center,
Building 201 - Suite 101
Seaside, California 93955
Phone: direct: 831-582-5038
Ruby Sanchez (831) 582-5015
(831) 582-5019 Fax