Integrity Matters Broadcasts
February 25, 2008
Dear Jim:
Because attitude determines altitude, wanted to pass along two illustrations that make the point.
Published in Jim Bracher's Integrity Matters newspaper column on February 20, 2008.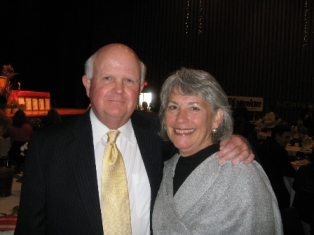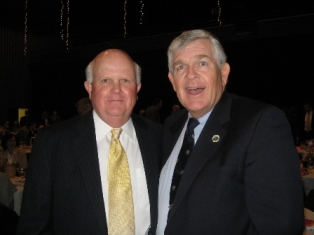 Tim & Candy McArthy / Citizen of the Year Tim McArthy with Jim Bracher
Dear Jim: "Where do you get ideas for your Integrity Matters columns?"
Integrity-centered leadership responses are best developed by listening and observing admirable individuals and organizations. On February 13, 2008, the Salinas Chamber of Commerce selected recently retired attorney, Tim McCarthy, as its Citizen of the Year. After hearing accolades offered to praise Mr. McCarthy's accomplishments, his Stanford and Harvard degrees and his many years of public service – what made the biggest impact was his response. Tim's gracious acknowledgment was an outline for leaders, everywhere.
His bottom line:
Blessed by his marriage to his wife, Candy, the love of his life, for nearly 38 years, whose steady encouragement enabled him to get involved and make a difference.
Blessed by his relationship with his law partners (Anna Caballero, Susan Matcham and Helen Hempel) with their shared business vision giving each partner the freedom to serve the community.
Blessed by a faith tradition that has instilled in him from his earliest memories, a sense of service by teaching and giving back – shaped by a God of love that unifies all of life.
Comfortable in the belief that we are all brothers and sisters regardless of the color of our skin, religion, language or where we live.
Knowledge that there are right and wrong ways to act toward one another and that each of us is called to act in the right ways.
Talking the Talk is not nearly as challenging as Walking the Walk.
On a daily basis, each of us is presented with opportunities to be of service to others and youth are a case in point because they really need us. If you want to know how the kids are going to act . . . then watch how the adults behave.
Therefore, when we are with or around younger people, we need to be at our best; and this includes our own children, our grandchildren, nieces and nephews or neighbors.
Whether we live in Toro Park or North Salinas, in Prunedale or Gonzales, in South Salinas or East Salinas - we really are in this together, and it is OUR collective future that is on the line – being our best is a must.
Tim asked attendees to join him in his daily prayer to become bridge builders and not wall builders; united by our commonalities, able to celebrate our differences; knowing that our words and deeds should emerge from loving hearts, not from hate or fear
And, when faced with an opportunity to serve especially youth – that we might – each of us – say Yes!
Tim McCarthy's integrity-centered "accountability" message is for every leader – whether in the public or private sectors. Faith, Family, Friendship, Service and always - Optimism
Positive attitudes and behaviors motivate
On January 30th, 2008, Mayor Dennis Donohue, Salinas, California, invited me to attend his 3rd Annual Faith Community Luncheon. His objective is to transform a city of 150,000 people into a peaceful community, where each citizen feels confident, cared for, safe and positive. Purposeful behavior is not an accident. Over and over, community leaders emphasized that positive attitudes play a major role in the successful achievement of any worthy goal – inlcuding building a peaceful city, county and world.
People make a difference with constructive leadership behaviors, and, whencoupled with responsive follow-through; they transform lives. For those who know me, such simplicity smacks of a bad case of Pollyanna-ish thinking. And, it does. But, it works.
Given my persistent search for effective ways to communicate the Integrity Matters message, on a weekly basis, in my newspaper column – aha, yet another treasure was discovered.
Below is a summary of what was provided to each of the several hundred attendees on January 30- on an anonymously-produced plastic credit-sized card. Sound management principles, effective ways to maximize talent and profits, are really quite simple human relations practices.
Good business and good citizenship can be built on straight-forward integrity-centered behaviors. As you read through the two lists, consider how you might modify personal behaviors to more effectively harvest maximum results; especially if you find your responses are negative. In contrast, positive attitudes and behaviors motivate.
In order to harvest – or, in more businesslike terms, to capitalize on:
Productive relationships, practice forgiveness, leveraging team unity for maximum results.
Peace, plant or exhibit patience and leverage order.
Security, plant humility and leverage acceptance.
Friendship, plant respect and leverage admiration.
Confidence, plant honesty and leverage trust.
Self-control, plant responsibility and leverage maturity.
Strength, plant commitment and leverage perseverance.
Success, plant discipline and leverage character.
Or, you can work on the negative side and create:
Bitterness from unforgiving responses that generate disunity.
Confusion from impatience magnifying disorder.
Anger that often arises from dishonor establishes an environment of rejection.
Loneliness, a by-product of disrespect spawns enemies.
Suspicion created by lies and deceit cascades distrust.
Recklessness, from irresponsible behaviors, sanctions immaturity.
Weak performance emerges from uncommitted role models and telegraphs insecurity.
Disorder is the result of undisciplined efforts and creates disastrous disruptions.
Public servants like Mayors and Peace Officers or members of the faith community – in partnership with every citizen – whether at home or in the workplace – as senior executives or front line employees – attitude sets the tone. Positive treatment of others; directly or behind closed doors; determines the health, vitality and sometimes even the success of marriages, families, communities, social institutions and business organizations. Leadership is an integrity-centered attitude shaping productive behaviors!
Thanks.
Jim Bracher
James F. Bracher
Founder
Dimension Five Consultants, Inc.
Bracher Center for Integrity in Leadership
P.O. Box 22467
Carmel, California 93922

www.brachercenter.com
James F. (Jim) Bracher, Director
Executives in Residence
Foundation of CSUMB
California State University Monterey Bay
100 Campus Center,
Building 201 - Suite 101
Seaside, California 93955
Phone: direct: 831-582-5038
jfb2c@brachercenter.com
Ruby Sanchez (831) 582-5015
(831) 582-5019 Fax