Integrity Matters Broadcasts
September 18 , 2007
Dear friends:
If you have not already done so - please read the following announcement and lend your support: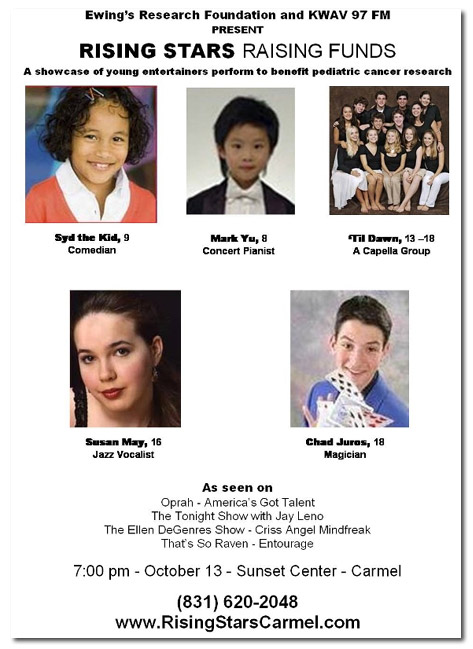 The performers are all 18 and under.
Sydney Park - age 9 Los Angeles, California, Comedian
Marc Yu - age 8 Los Angeles, California, Pianist
Susan May - age 16 Chicago, Illinois, Jazz vocalist
'Til Dawn - ages 14-18 San Francisco, California, A cappella group
Chad Juros - age 18 Atlantic City, New Jersey, Magician
And from the "Let's Beat This" press release:
"The event is being produced by 20-year-old Ewing's Research Foundation founder, Reed Kavner, who
conceived the idea while in treatment for Ewing's Sarcoma, an aggressive pediatric bone cancer. The
performers, ranging in age from 8 to 18, have all donated their time for the show. "This is a real example
of kids helping kids on several different levels," said Reed, who is now in remission. "We'll have kids
on stage, we want kids in the audience, and it all benefits research to defeat a kids' disease."
Bringing the audience music, magic, and comedy, the evening's performers have appeared on shows such
as Oprah, The Tonight Show with Jay Leno, The Ellen DeGeneres Show, and America's Got Talent,
profiled on TLC and A&E, and have had roles in popular programs such as HBO's Entourage and Disney
Channel's That's So Raven."
Tickets are $30 for adults and $15 for children 13 and under and will go on sale August 1. Tickets may
be purchased in person at the Sunset Center box office in Carmel, by phone: (831) 620-2048, or through
Carmel's Sunset Center website: www.sunsetcenter.org.
For more information on Rising Stars Raising Funds, visit www.RisingStarsCarmel.com. The Ewing's Research Foundation was founded in September, 2006 by Reed Kavner while undergoing chemotherapy. A 501(c)(3) support organization to the V Foundation For Cancer Research, their mission is to raise funds to support research to find better therapies and a cure for Ewing's Sarcoma and other
pediatric cancers: www.letsbeatthis.org.
To learn more, contact Reed Kavner - info@letsbeatthis.org
Friends and colleagues: the operative verb is "purchase" at: www.RisingStarsCarmel.com or at the Carmel Sunset Center 831-620-2048. And, let us know if you want us to distribute tickets.
Thank you, in advance, for helping.
Sincerely,
Jim
James F. Bracher
Founder
Dimension Five Consultants, Inc.
Bracher Center for Integrity in Leadership
1400 Munras Avenue
Monterey, California 93940
831-373-0994 (fax)
www.brachercenter.com