Integrity Matters Broadcasts
October 15, 2007
Dear friends:
Arrogance – in contrast to legitimate pride and justifiable confidence – bothers me. It has become a "pet peeve" – an irritation that needs to be replaced with humility and appreciation. Examples of arrogant behavior are evident in the three illustrations that follow. Recipients of values and skills – gifts from others – need to acknowledge and appreciate the insights and wisdom of others – showing respect for those who can and do make positive contributions – every day.
To avoid arrogance – remain alert to self-deceit by:
1. being comfortable in one's own skin (Average Joe)
2. respecting the elderly, caring for them (Wooden Bowl)
3. gaining insights from the very young (The Bus and the Pre-Schoolers)
There's nothing wrong with 'Average Joe' tag
Certain political leaders, celebrities and other power brokers, such as bankers and wealth managers, condescendingly call the great majority - at least in the United States –"everyday" and "little" people. I do not think of myself in this way. Talk shows and news programs reference "common" people and the "average" American. But, who wants to be one of them?
Response:
I do! Being neither royalty nor slave, I am middle class. Cultural distinctions started with Cain and Abel and the "club" mentality continues. Unfortunately, cliques judge and ostracize others, leveraging differences - social, political, economic, cultural, racial and even religious.
However, in the United States, my "middle class-ness" probably places me along side the vast majority of folks who have earned their way . . . for the rest of the column, click here
What is an "integrity-centered" way to treat elderly parents?
Response:
My response is shaped by this anonymously written "wooden bowl" illustration.
A frail old man went to live with his son, daughter-in-law and 4-year old grandson. The elderly grandfather's shaky hands and failing sight made eating difficult. Peas rolled off his spoon onto the floor. He frequently spilled milk on the tablecloth.
Irritated with the mess; the son and daughter-in-law decided to do something about father because they'd had enough of his spilled milk, noisy eating, and food on the floor. To learn what they did; click here
We are never too old to learn, even from the very young, case in point:
Which way is the bus below traveling?
To the left or to the right?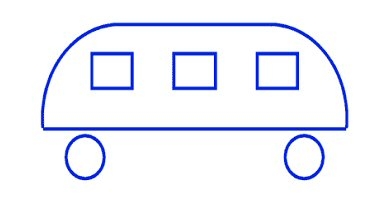 Can't make up your mind?

Look carefully at the picture again.
Still don't know?

Pre-schoolers all over the United States
were shown this picture asked the same question.

90% of the pre-schoolers gave this answer.

"The bus is traveling to the left."

When asked, "Why do you think the bus is traveling to the left?"
They answered:

"Because you can't see the door to get on the bus."

How do you feel now?
I know, me too.
Paying attention to others, young and old, can be informative. Wisdom comes from many sources. Even though graciousness and humility never go out of style, they can be difficult to find. Serving as an integrity-centered role model; demonstrating active-listening and genuine respect; goes a long way in strengthening society – personally and professionally.
Sincerely,
Jim
P.S. And, yes, Reed Kavner's October 13, 2007, fundraising event, Rising Stars Raising Funds, held at the Sunset Center, Carmel, California, to a full house - generated nearly $500,000 for pediatric cancer research. Thanks to all who supported this important evening – by purchasing tickets, making financial contributions and attending the marvelous and entertaining event! To learn more – click here: www.letsbeatthis.org
James F. Bracher
Founder
Dimension Five Consultants, Inc.
Bracher Center for Integrity in Leadership
P.O. Box 22467
Carmel, California 93922

www.brachercenter.com