Integrity Matters Broadcasts
May 1, 2007
Dear friends:
On April 13, 2007, in the City of Salinas, California, my wife, Jane and I were guests at ceremonies celebrating the promotion of two law enforcement officers: Commander Robert M. Eggers and Sergeant Sheldon R. Bryan.
They serve their community, as do thousands of other peace officers, all across the nation and around the world, because they understand the importance of safety, security and stability. This particular event was especially meaningful because of comments offered by Salinas Chief of Police, Daniel M. Ortega, as he was introducing these dedicated professionals and how integrity had shaped their careers.
After welcoming the honorees and guests, Salinas Police Chief Ortega referenced one of the Bracher Center's frequently used phrases, borrowed from Warren Buffett: "In looking for people to hire, you look for three qualities: integrity, intelligence, and energy. And if they don't have the first, the other two will kill you." He then set the tone for the promotions, talking about how behavior reflects organizational culture. He then referred to our book, Integrity Matters, Chapter 4: Character: consistency between word and deed:
"Your organization's behavior is the world's window on you and your values." These are words from a very special friend of mine, Jim Bracher, the co-author of Integrity Matters. To continue quoting from Integrity Matters - "Individuals are said to have character when they can be consistently depended upon to respond in support of others; when they have the courage to stand firm on principle; and when they model to others the common sense, grace and humility that earn respect, in support of their spoken values. These people display actions that inform the world about the integrity of their character. Just as individuals are judged primarily by their actions, we know that an organization's leadership behavior is the world's window on its character." Integrity of Character is defined as "consistency between what you say and what you do, as well as what you say about what you did. Integrity is the keystone of leadership. Character is the foundation of integrity."
Chief Ortega then reviewed the credentials of each honoree and presented them with their new badges – symbols of their increasing responsibilities. Integrity was the centerpiece of who they were, who they are and who they must continue to be – as they serve the public.
Salinas, California; April 13, 2007 - Police Officer - Promotion Ceremonies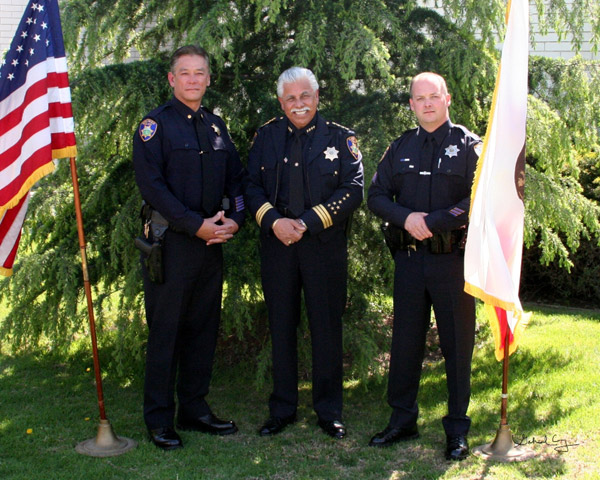 The individuals pictured above have identified the "right" people and the "right" organization to leverage their talents; having achieved success through integrity-centered service.
Success is that quality of mind which enables one to confront a problem with ease and arrive at a relaxed solution. The arrived at solution is not only satisfactory for the individual, it is also serviceable to the rest of humanity. Success should not be sought primarily for itself, anymore than happiness should be sought as a goal apart from true serenity.
Successful persons are doing what they most enjoy doing. They are individuals who are doing what functionally fits them. They have taken an inventory of their talents and abilities and within the framework of this inventory; they have built occupations which closely fit their own personalities.
They are successful people within their own minds. They are successful in the sense that their true selves are expressed in their work, in their home life and in their friendships. They are individuals who have learned to know themselves well enough to know their limitations as well as their strengths. Whatever their talents may be, they have concentrated upon developing them. They do not waste their time doing things outside of the mainstream. They know that the very things that they choose not to do are not trivial, they are simply activities that will divert energy and attention from their primary interests and strengths.
Successful people in this sense are those who seek to serve humanity in the best way that they can. And perhaps as important as any of the other characteristics of these successful persons, they do not waste energy in vain envy of those whose service lies in other fields. -- Source unknown
Success very often begins with finding the "right" situation and being the "right" person.
On May 19, come to Danville, California, and learn how to do both:
Jim Bracher's "free" one-hour* presentation: "Integrity-Centered Leadership"
Finding the "right" employer
Identifying the "right" employee
*begins approximately at 10:00am
The 2007 Northern California Career and Leadership Summit
"Leadership … Filling the Void"
Register for Jim's May 19 Program - www.JobConnections.org
In closing, would you like to know if your organization is a potential Bracher Center client?
Is your enterprise anticipating growth and organizational transition?
Does your culture value people and superior leadership?
Will you participate, directly, in improving team dynamics?