Integrity Matters Broadcasts, 2007
January 15, 2007
Renewing Values
Dear Friends:
As we begin 2007, Jane, my wife of 40 years, as of December 18, 2006, joins me in offering to you our best wishes for a fulfilling, value-centered and prosperous new year - another opportunity to renew values. Second, the recent death of President Gerald R. Ford reminded us of the two special days we shared, in February - 1990 - with this integrity-centered man, and the clarity with which he addressed his own personal and professional history, being simultaneously open, honest, trusting, caring and vulnerable.
Third, we encourage you to attend all four of our 2007 MBA Impact Insights workshops; beginning on Tuesday, February 27, 2007, on the campus of California State University Monterey Bay CSUMB; where once again, leadership and values are foundations for effectiveness and success; addressing finance and human resources.
Best Wishes!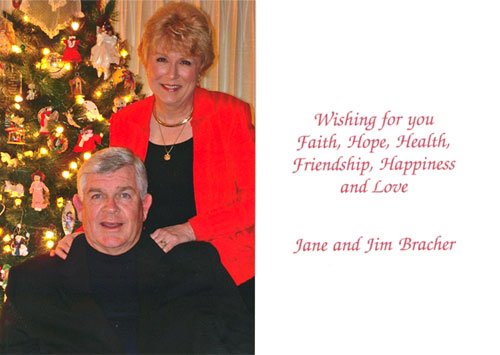 Jane and Jim Bracher - Christmas - 2006
Integrity-centered leadership!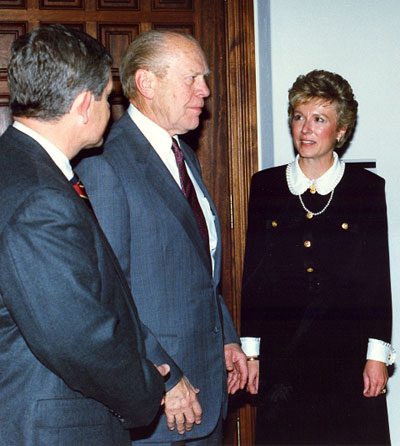 Jim Bracher, President Gerald R. Ford and Jane Bracher, February - 1990
Responding to the recent death of President Ford, describing his impact on us, please click here and access my Integrity Matters column:
Gerald Ford lived a life of integrity http://www.brachercenter.com/columns/2007-01-03.html
Leadership and Values!
"Numbers and People"
A one-day "advanced" management workshop with Jim Bracher and Dr. Del Mank of the Bracher Center for Integrity in Leadership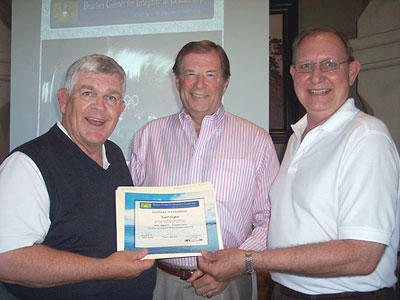 Jim Bracher, Kurt Sligar and Del Mank
July 11 MBA Impact: Essentials Workshop
Guest Luncheon Speaker: Kurt Sligar, M.D., MHA; President and CEO,
ADAPCS, Inc., Marina, California
Topic: Integrity in Leadership
8:00 a.m. to 5:00 p.m., Tuesday, February 27
California State University Monterey Bay, Alumni Visitors Center
100 Campus Center, Seaside, California
Information: http://www.mbaimpact.com/services07.html
Tuition is $950/person, including lunch.
Presented in cooperation with:
California State University, Monterey Bay -CSUMB
The Grower-Shipper Association of Central California
The Salinas Valley Chamber of Commerce,
The Salinas Californian's Business 101 Magazine
Happy New Year!
Sincerely,
Jim