Integrity Matters Broadcasts, 2007
February 20, 2007
Dear Friends:
Today's Broadcast is about risk (courage); belief/faith (conviction) and follow-through (commitment). A first-run movie, Amazing Grace, will be shown nation-wide, beginning on Friday, February 23. To learn the location of the theater in your community, click here: http://www.amazinggracemovie.com. Enter your zip code and make the time to see the movie. One of our friends, Ken Wales, is the producer, having invested a decade bringing this culture-changing story to the big screen. Ken Wales wants to send a signal to movie-makers that society is hungry for integrity-centered movies, and will pay for the privilege of having them accessible for the whole family.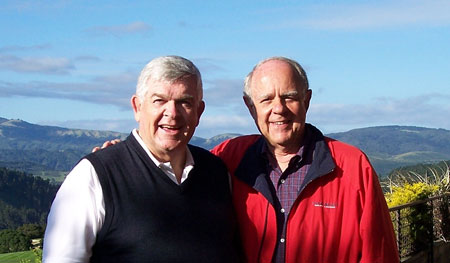 Jim Bracher and Ken Wales
John Newton, a reformed slave-trader and confidante to the young politician, inspired Wilberforce to pursue a life of service to humanity. William Pitt, England's youngest ever Prime Minister at the age of 24, encouraged his friend William Wilberforce to take up the fight to outlaw slavery and supported him in his struggles in Parliament.
Amazing Grace, with its powerful stories of Wilberforce, Newton and Pitt, introduces Olaudah Equiano (1745-1797) who wrote an eyewitness account of his life as a slave and of his work in the anti-slavery movement. Though born in what is now Nigeria, Equiano was kidnapped and sold into slavery in childhood and taken as a slave to the New World. As a slave to a captain in the Royal Navy, and later to a Quaker merchant, he eventually earned the price of his own freedom by careful trading and saving. Equiano, like Wilberforce, stood for more than just abolition. Equiano was an African, a slave, a sailor, an Englishman, an abolitionist, a Christian and a writer who used his life to show how slavery brutalizes society as a whole.
In addition to ending slave trade throughout the British Empire, likely inspiring the Emancipation Proclamation in the United States, Wilberforce also wanted society to be more civil. How people treat one another is critical at home, on the job, in politics and throughout daily activities. Thoughtful individuals strive first to understand; even before seeking to be understood; and they succeed frequently. Integrity-centered behaviors, including character and graciousness, generate trust, confidence, relationships, productivity, and, yes, profits.
This movie provides a communications vehicle - a Hollywood movie - that tells an important story of how committed individuals, with courage and conviction, can triumph over incredible odds; which, in this case, involved ending slave trade and supporting the dignity of humanity. So, how can one expect to soar to such heights and change the world? Our answer is one person at a time, one cab ride at a time, please read on.
ONE CAB RIDE (Unknown source)
How does one teach civility, compassion, integrity?
Integrity, compassion and civility are learned by the careful observation and then thoughtful emulation of those who exhibit these admired behaviors. The following story of a taxi driver ought to be shared, over and over.
"Twenty years ago, "writes a cabdriver, "I drove a taxi for a living. When I arrived at 2:30 a.m., the building was dark except for a single light in a ground floor window. Under these circumstances, many drivers simply would honk once or twice, wait a minute, and then drive away.
But I had seen too many impoverished people who depended on taxis as their only means of transportation. Unless a situation smelled of danger, I always went to the door. This passenger might be someone who needs my assistance, I reasoned to myself. So I walked to the door and knocked. "Just a minute", answered a frail, elderly voice. I could hear something being dragged across the floor. After a long pause, the door opened. A small woman in her 80's stood before me wearing a print dress and a pillbox hat with a veil pinned on it, like somebody out of a 1940s movie.
By her side was a small nylon suitcase. The apartment looked as if no one had lived in it for years. All the furniture was covered with sheets. There were no clocks on the walls, no knickknacks or utensils on the counters. In the corner was a cardboard box filled with photos and glassware. "Would you carry my bag out to the car?" she asked. I took the suitcase to the cab, and then returned to assist the woman. She took my arm and we walked slowly toward the curb, and she continued thanking me for my kindness. "It's nothing", I told her," I treat my passengers the way I would want my mother treated."
"Oh, you're such a good boy," she said. Once in the cab, she gave me an address, asking if I would drive through town. "It's not the shortest way," I answered quickly. "Oh, I don't mind," she said, "I'm in no hurry. I'm on my way to a hospice."
Looking in the rear-view mirror, with her eyes were glistening, she continued, "I don't have any family left and the doctor says I don't have very long."
Quietly reaching over, I shut off the meter, asking only: "What route would you like me to take?"
For the next two hours, we drove through the city and she showed me the building where she had once worked as an elevator operator.
We drove through the neighborhood where she and her husband had lived when they were newlyweds. Then she had me pull up in front of a furniture warehouse that had once been a ballroom where she had gone dancing as a young woman. Sometimes she'd ask me to slow in front of a particular building or corner and would sit staring into the darkness, saying nothing.
As the first hint of sun was creasing the horizon, she suddenly said, "I'm tired. Let's go now."
We drove in silence to the address she had given me; a low building, like a small convalescent home, with a driveway that passed under a portico. Two orderlies came out to the cab as soon as we pulled up. They were solicitous and intent, watching her every move. Obviously, they were expecting her.
Opening the trunk, I took the small suitcase to the door as she was being placed in a wheelchair.
"How much do I owe you?" she asked, reaching into her purse. "Nothing," I said.
"But, you have to make a living," she answered. "There are other passengers," I responded. Then, without thinking, I bent and gave her a hug as she held onto me tightly, whispering, You gave an old woman a little moment of joy, thank you."
I squeezed her hand, and then walked away into the dim morning light. Behind me, there was the sound of a door shutting, symbolizing the closing of a life.
I didn't pick up any more passengers that shift. I drove aimlessly lost in thought; barely able to talk. What if that woman had gotten picked up by an angry driver, or someone who simply wanted to end his shift? What if I had refused to take the run, or had honked once, then driven away? Reflecting on my early morning, I don't think that I have done anything more important in my life.
We're conditioned to think that our lives revolve around great moments. But great moments often catch us unaware, beautifully wrapped in what others simply might miss.
PEOPLE MAY NOT REMEMBER EXACTLY WHAT YOU DID, OR WHAT YOU SAID, BUT, THEY WILL ALWAYS REMEMBER HOW YOU MADE THEM FEEL."
Restoring civility, compassion and integrity will come one example at a time. Please, do your part!
The VISION of the Bracher Center is to restore integrity through insight, helping to shape a world in which people do what they say, are forthright in their communications, and a handshake solidifies any promise.
One constructive way to shape the next generation is to develop and communicate important information and education so that future leaders will better understand the nature of humanity; choosing to leverage higher motives, controlling destructive impulses, while simultaneously working diligently to develop critical business skills.
SIGN UP TODAY for our one-day "advanced" management MBA Impact: Insights workshop
Finance and Human Resources
"Numbers and People"
http://www.brachercenter.com/services07-agenda.html
8:00 a.m. to 5:00 p.m., Tuesday, February 27
California State University Monterey Bay, Alumni Visitors Center
100 Campus Center, Seaside, California
Information: http://www.mbaimpact.com/services07.html
Tuition is $950/person, including lunch.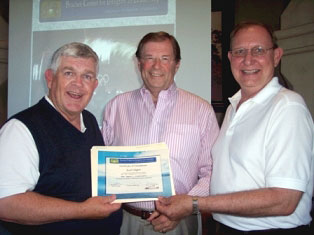 Jim Bracher, Kurt Sligar and Del Mank
Guest Luncheon Speaker: Kurt Sligar, M.D., MHA; President and CEO,
ADAPCS, Inc., Marina, California
Topic: Integrity in Leadership
The MISSION of the Bracher Center is to provide integrity-centered leadership counsel to improve productivity for the investor, executive, team, culture and the organization. Future contributors (younger people) need to know what is required of them if they are to preserve and protect their social, cultural, political and economic inheritance.
Amazing Grace
requires a time investment of two hours, from which important conversations can emerge about how society can change for the better, and the investment required to make a positive difference.
Sincerely,
Jim