Integrity Matters Broadcasts
February 12, 2007
Dear Friends:
Tom Brokaw extolled the virtues of dedicated and hardworking Americans in his book, The Greatest Generation! Because the remaining members of this special group are now in their 80' and 90's, how will they be replaced?
His integrity-affirming study about citizen heroes and heroines, who came of age during the Great Depression and the Second World War and then went on to build modern America. United by common purpose and values, the "greatest" generation exhibited duty, honor, economy, courage, service; love of family and country, and, above all, responsibility for oneself.
Members of the "greatest" generation understood, even when they were in their early teens, that the United States was balanced precariously between the darkness of the Great Depression and the storms of war in Europe and the Pacific. They knew the events surrounding them were critical to the shaping of their nation and the world, equal to the revolution in 1776, and the perils of the Civil War. Young people knew their duty, and they volunteered willingly to do whatever it would take to build and preserve a way of life they admired.
One member of that special generation was John A. Zoller. To learn about his life-lessons; click here: http://www.brachercenter.com/columns/2007-02-07.html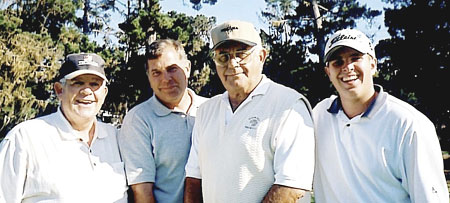 Jim Bracher; Bob Zoller - John's son; Greatest Generation member - John Zoller (1924 - 2007) - and Grandson, Ben Zoller
So, how will today's adults encourage and direct youth to become the next "outstanding" generation? Success will center in leadership, at home and in the workplace. Responsible individuals in positions of power and influence, personally and professionally, accept their responsibility to lead, because it is the right thing to do.
What do effective and successful leaders do?

Fair Isaac Corporation, Minneapolis, Minnesota, the global leader in predictive-analytics, decision-management and credit-management solutions, promotes seven qualities of leadership that consistently create long-term success. Fair Isaac's seven qualities reflect the Bracher Center's Eight Attributes of Integrity-centered Leadership: Character, Honesty, Openness, Authority, Partnership, Performance, Charity and Graciousness.

1. Leaders Have Vision and Share It
Leaders turn strategy into action and stay focused, despite distractions. They pay attention to the vision, balancing short- and long-term issues, distinguishing the important from the unimportant and simply the urgent. Leaders create the business models necessary to generate value by understanding markets and clients. With business savvy, intuition and judgment, they define the path to pursue the vision.
To review six additional characteristics, click here: http://www.brachercenter.com/article_leaderslead.html
Leaders understand they are accountable, all the time, to:
Have Vision and Share It
Inspire
Accomplish
Attract and Build Teams
Set the Scope of Responsibility
Teach and Foster Employee Development
Demonstrate Values
In addition to inspiring and managing growth and change, accepting responsibility for developing business competence is a critical step in developing the next "greatest" generation. Continuous learning can include participating in our one-day "advanced" management MBA Impact: Insights workshop
Finance and Human Resources
"Numbers and People"
http://www.brachercenter.com/services07-agenda.html
8:00 a.m. to 5:00 p.m., Tuesday, February 27
California State University Monterey Bay, Alumni Visitors Center
100 Campus Center, Seaside, California
Tuition is $950/person, including lunch.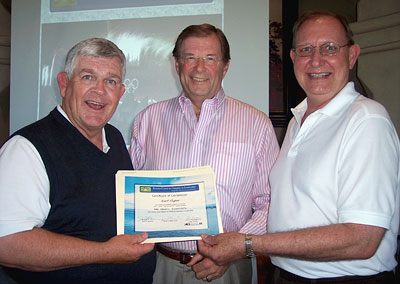 Jim Bracher, Kurt Sligar and Del Mank
Guest Luncheon Speaker: Kurt Sligar, M.D., MHA; President and CEO,
ADAPCS, Inc., Marina, California
Topic: Integrity in Leadership
In the meantime, please share the integrity message; purchasing multiple copies of Integrity Matters, one for yourself and the others as gifts for your friends. http://www.brachercenter.com/integritymatters.html#book
Sincerely,
Jim