Resources...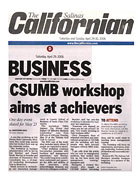 By CHRISTOPHER ORTIZ
The Salinas Californian
A one-day workshop at Tehāma Golf Club, could help anyone who has worked their way up the corporate ladder.
The workshop in business administration will be led by Jim Bracher and Darrel Mank. Bracher is founder and chairman of Dimension Five Consultants Inc., a 24-year-old leadership development firm in Monterey.
Mank lectures in technology and innovation management at Leavey School of Business of Santa Clara University.
The workshop, "MBA Impact: The Power And Impact Of Effective Business Leadership," runs from 8:30 a.m. to 4:30 p.m. Tuesday, May 23 at the Tehama Golf Club in Carmel.
The $950 cost of the workshop includes lunch. About 25 people are expected to attend.
"(The) workshop combines best-practice processes with business and management experience," said Bracher. "Successful long-term contributors understand and appreciate the skills and abilities of their associates, while acknowledging demands and obstacles colleagues confront."
Bracher said the one-day workshop is intended for business' key employees.
"Someone you depend on when you are not around," he said. "(It's worth) investing in their business skills."
Chris Hasegawa, dean of extended education and international programs at CSUMB, said the workshop will help people who have become managers without MBA training.
"I get calls from the public who are now in management positions, they worked their way up, but have never had management training," Hasegawa said.
Hasegawa, a trained biochemist who taught at CSUMB before becoming dean, said he could relate to needing more management training.
The workshop will focus on organization, motivation, strategy, leadership, business tools, production and successful succession.
Business 101, The Salinas Californian's monthly business magazine, is a sponsor of the workshop.
Contact Christopher Ortiz at chrisortiz@thecalifornian.com.
Originally published April 29, 2006
To attend the MBA workshop, download an application at
www.mbaimpact.com
.