Resources...
Integrity every day: "faith, promises and relationships" - May - June, 2005
James F. Bracher, architect for the renewal of integrity-centered leadership, founder of the Bracher Center for Integrity in Leadership, broadcasts three sermons on the global radio network of "Day 1" and the Episcopal Media Center.
The Reverend Mr. James F. Bracher, Founder of the Bracher Center for Integrity in Leadership and Chairman of Dimension Five Consultants will be the featured speaker Sunday, May 29, June 5 and June 12 on "Day 1," the award-winning inspirational radio program. "Day 1" is broadcast on 160 stations nationwide, globally on the American Forces Network, Sirius Satellite Network and online at www.day1.net.
Jim Bracher's sermons for the "Day 1" broadcasts are titled "Faith for all Seasons" (May 29, 2005), "Fulfilling Promises" (June 5, 2005) and "God Knows You" (June 12, 2005). The interviews were conducted by Mr. Peter Wallace, executive producer, "Day 1."
Formerly known as "The Protestant Hour," "Day 1" is celebrating 60 years of weekly broadcasts. It has won numerous awards, including the George Foster Peabody Award and the 2003 Crystal Award for Excellence in inspirational radio. It is produced by Canon Louis "Skip" Charles Schueddig of the Episcopal Media Center in association with the Cooperative Baptist Fellowship, the Episcopal Church, the United Methodist Church, the Presbyterian Church (U.S.A.), the Evangelical Lutheran Church in America and the United Church of Christ.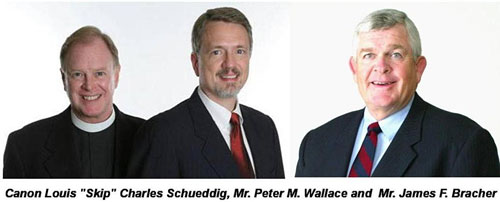 Jim Bracher created the Bracher Center for Integrity in Leadership in 2002, as an extension of his 33 years advising individuals and organizations. Those who have sought Jim's counsel include entrepreneurs, corporate executives, and individuals addressing succession concerns. Jim's leadership development firm Dimension Five Consultants, Inc., of which he is Founder and Chairman, is located in Monterey, California, and was established in 1980.
Prior to Dimension Five, Jim, an ordained clergyman, served ten years as a chaplain, associate minister, and senior pastor. His assignments were Saint Louis Country Day School in Ladue, Missouri; Second Congregational Church in Greenwich, Connecticut; First Congregational Church in Terre Haute, Indiana; and Community Church of the Monterey Peninsula in Carmel, California.
The motivation for the Bracher Center grew from suggestions of clients. They realized that Dimension Five was collecting data concerning effective and integrity-centered leadership that would enable leaders to gain insight into their own operational effectiveness as well as that of their organizations. Jim also saw a need for a Resources section on the website focused on learning, study, and knowledge concerning the role of integrity in effective leadership. The Bracher Center shares insights that have been gained by Dimension Five in consultation with 8,000 leaders.
Jim's education includes a Bachelor of Arts, Elmhurst College; and a Master of Divinity, Eden Theological Seminary. He has continued his education at Whittier College, The American School, Jerusalem, Israel, Oxford University and the Hudson Institute.
His work has been featured on network television, in national newspapers and business journals. He is the originator of the "Talking with Leaders" symposia. Jim writes a weekly newspaper column, Integrity Matters, and he is published in both English and Spanish. Jim is also co-author of the book Integrity Matters with Daniel E. Halloran.
Jim's professional experience includes advisory councils and boards of directors. Along with his own counselors and faculty at the Bracher Center, he restores integrity through insight.
Two ways secure additional information about the "architect for the renewal of integrity-centered leadership" Jim Bracher and his productivity-enhancing consulting services which improve leadership effectiveness: info@brachercenter.com .
<< Back to Integrity Matters main page
Home Page | About Us | Ask Bracher | Services | Resources | Contact Us