Resources...
Ag execs agree on ethics principles
Salinas Valley effort underscores values
August 6, 2003
by Scott Faust, The Californian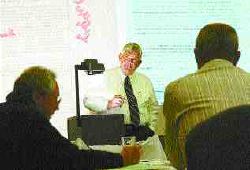 Jim Bracher, center, conducts brainstorming on agribusiness ethics June 12 at the National Steinbeck Center.

"In many of the families, fathers have taught their sons and daughters these things, but there's no guarantee that's going to go on as we bring so many people into this industry."
-- Basil Mills, founder of Mills, Inc.
A six-month effort to identify core values of Salinas Valley agriculture has yielded a set of principles that organizers say could foster a nationwide renewal of business ethics.
At a meeting in Salinas on Monday, ag executives heralded the moral legacy of those who established the local produce industry in the 1920s and '30s. Today, the multibillion-dollar sector -- led by many of their descendants -- directly or indirectly employs more than 30 percent of Monterey County's workforce.
One concept emphasized throughout an agreed-upon document is that of a "verbal handshake" -- the mutual trust that permits quick transactions under the deadlines of a perishable commodity. Also emphasized is the idea of giving back to the community, which participants say is still reflected in the civic generosity of many ag companies in such causes as Relay for Life, the annual fund-raiser for cancer research.
Longtime ag executive Basil Mills, who joined with Monterey business consultant Jim Bracher to launch the values program, said a primary goal was to reinforce basic ethics among the next generation of industry leaders.
"You don't always get these things by osmosis," said Mills, founder and president of Mills Inc., a Salinas-based produce firm. "In many of the families, fathers have taught their sons and daughters these things, but there's no guarantee that's going to go on as we bring so many people into this industry."
Training may follow
Formally known as the Salinas Valley Agribusiness Integrity-Centered Leadership Program, the effort's next step will be a trial run of a training curriculum based on eight key values that include such things as honesty, openness and performance.
Mills said Tuesday he expects a small group of top ag executives this fall to try out an industry-specific course that could later be presented to promising leaders within local agribusiness companies.
They will include some of the 17 participants who attended about five meetings since March at the National Steinbeck Center, which also was represented in the discussions. The agribusiness integrity principles may eventually be displayed in some way at the Steinbeck Center's new Agricultural History and Education Center, scheduled to open Sept. 1.
The 17 included many prominent figures: Bill Ramsey, co-board chairman of Mann Packing Co., Bob Antle, co-chairman of Tanimura & Antle, and Jim Bogart, president of the Grower-Shipper Association of Central California.
Bracher, who is founder and president of the Bracher Center for Integrity in Leadership, said he's hopeful the ag-focused training program he coordinated will make the Salinas Valley a national model.
Though he did not charge participants a fee as facilitator, he said he would like to take the basic approach to core business values and market it to other industries as a moneymaking venture.
"Sowing the seeds for the renewal of free markets is the essence of what drove me to it," said Bracher, who first approached Mills with the concept in January. "The more we discover about it (Salinas Valley agribusiness), the more we believe this is the legitimate home for the renewal of free enterprise."
Mills cited the raft of corporate-ethics scandals that have made headlines over the past year, including such big names as Enron, WorldCom and Global Crossing.
He said the newly agreed-upon agribusiness principles do not mean that industry leaders consider their companies incapable of missteps.
"Really the country is crying out for something like this," Mills said. "... None of us is immune to forgetting some of the basic things that are important: integrity, fairness and how we treat people, whether they're customers or employees."
Companies rated
One thing that sets the produce industry apart from other businesses is a pair of private rating systems called The Blue Book and The Red Book. Both include financial and character ratings based on information provided by companies about themselves and their peers.
Jim Carr, president/CEO of the Produce Reporter Company, the Illinois-based firm that owns The Blue Book, said he's not aware of any effort quite like the values standards just agreed upon by Salinas Valley ag leaders.
"The people in the Salinas area are very good," said Carr, who also teaches business ethics at Wheaton College in Wheaton, Ill. "Many of the companies are very good -- very highly rated by our firm."
Perhaps the youngest participant in the values-agreement process was Lorri Koster, daughter of Don Nucci, Ramsey's co-chairman at Mann Packing.
Koster, who owns her own ag-related marketing firm, said some observers may overlook the importance of character and honesty in the success of early agribusiness leaders.
"Innovation certainly made the companies successful," she said, "but it was also how they were managed."
Jerry Escovel, a second-generation agri-businessman who did not take part in the values-brainstorming effort, said he has found that written agreements are more and more important, despite close-knit relationships.
"You don't want to be left hanging with a payroll of employees after you've harvested a 30-acre field," said Escovel, owner of Chieftain Harvesting.
But he said he's not ready to give up on cherished ideals.
"It would be nice to have the old-school ethics the way we grew up," Escovel said, "where word of mouth and a handshake really went a long way."
At a glance The following are the eight key values of the Salinas Valley Agribusiness Integrity-Centered Leadership Program, adopted Monday by a committee of 16 leaders of valley agricultural companies. Listed with each is a quote from a five-page summary document:
Character: "Business is transacted with a phone call or a handshake, and even though much of agribusiness today involves contracts, it is clear that contracts are formalities..."
Honesty: "From the irrigator and harvester in the field to the broker and the shipper in the office, every person must understand that agribusiness as a whole thrives on honest and reliable information exchange."
Openness: "Openness with competitors, perhaps unusual in other industries, is routine in agribusiness. While it is a competitive business, it is interdependent and cannot prosper without openness."
Authority: "The early leaders and their successors have succeeded in building a climate of authority based on performance, knowledge, competence, follow-through and trust."
Partnership: "They have developed business relationships where any company can be the competitor, the supplier and the customer of the other company."
Performance: "Today's leaders will need entrepreneurial spirit and common sense, along with the drive and energy necessary to persevere with high standards of ethical performance."
Charity: "Stewardship begins with the land and extends to the citizens who share responsibility for making the soil productive."
Graciousness: "The early leaders of the Salinas Valley agribusiness community could be seen performing alongside their employees, as no job was too small nor any person unimportant."
Originally published Wednesday, August 6, 2003